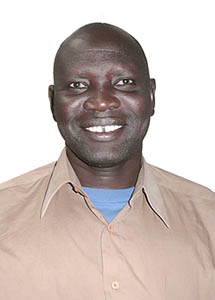 Listen to Makuei Ajak Ariik:
Audio clip: Adobe Flash Player (version 9 or above) is required to play this audio clip. Download the latest version here. You also need to have JavaScript enabled in your browser.
MAKUEI AJAK ARIIK has lived in many places since he was a boy, including Ethiopia, trying to avoid the troubles in Sudan. He returned to Sudan when the situation there appeared to improve. Due to war and other problems, he and his wife and children left for Kenya in the 1990s where they spent some years in the Kakuma refugee camp. Since arriving in Australia in 2008, Makuei and his family have been busy establishing new lives in Blacktown.
It's just a matter of dying or escape [in Sudan]. We decided to go. I was alone with my young brothers. They shoot us – it was bad. Mosquitoes, malaria. It's a journey. … Desert area … survival …
1994 was really one of the worst years. Everything was taken by the militias. … So we run again.
It's hard [living in Australia], but it's better than before. … We are in a better place than in Africa.
Interview & photograph by Shar Jones, Blacktown City Council Museum Advisor