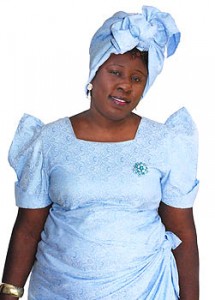 Listen to Mary Mamour:
Audio clip: Adobe Flash Player (version 9 or above) is required to play this audio clip. Download the latest version here. You also need to have JavaScript enabled in your browser.
MARY MAMOUR is a singer and songwriter. She was born in the Sudanese capital, Khartoum. She moved away due to the 1983 war, returning when the situation improved. Further troubles saw her leave for Egypt where she resided until coming to Australia in 2003 with her children.
Mary is pursuing her music by working for organisations such as Blacktown Arts Centre and is very active in her community, especially her local Sudanese and Catholic church congregations. Her children are working towards achieving their dreams.
In Egypt for four-and-a-half years, my kids … lived inside. It's not safe [to play outside].
When you sing in your life … you feel like something changes … the song is like a prayer … the bad things come out and the good things come inside. … Song is great.
Interview by Shar Jones, Blacktown City Council Museum Advisor
Photograph by Marian Abboud
Heart Broken written and sung by Mary Mamour
From the CD Western Line – The big sound of Western Sydney's little Africa by Blacktown Arts Centre, Arts NSW and Blacktown City Council