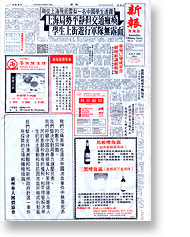 &raquo view at full size
(3.6 Mb PDF file)
Front page of the Australian Chinese Daily Issue No.1698 Tuesday, 6th June 1989
Brief translations
Editorial
NO CIVIL WAR, NO VIOLENCE. According to news from Beijing, tanks and machine guns had already caused casualities to thousands of people. This was a cruel suppression that rarely happened in any other country in the world. PM Bob Hawke clearly expressed his concern and expressed serious condemnation. Saddened by the many deaths caused by Beijing's suppression, we appeal to peoples of the world to stop the situation from worsening and do whatever is necessary to avoid the possibility of civil war. We beg all Chinese-Australians to stay calm, be sensible and civilized when taking protest actions. Abide by the laws of Australia and safe guard the people environment of Australia.
Headline
PLA assaults continued. Casualties reached 20,000. The 38th and 27th (armies) battalions slugged it out on the outskirts of Beijing. Hong Kong stock market shares slump and there's a run on the Chinese (Government-owned) bank.
Australian Chinese Daily
The
Australian Chinese Daily
was first published in Sydney on 19th March, 1987. It was against a backdrop of a major intake of Chinese-reading migrants, arriving as a result of
(1). The ending of the Vietnam War in the mid 70s. About 80,000 people were settled here under humanitarian/refugee program; approximately half of these read Chinese;
(2). The uncertainty of Hong Kong's sovereignty in early 80s also attracted a considerable number of its middle class citizens, and
(3). The Education Export Program of the mid 80s and subsequently the political turmoil at Beijing's Tiananmen Square in 1989. The Australian Government's interim policy of providing four-years temporary residency to led to the eventual permanent settlement of approx. 30,000 Chinese students.
The
Australian Chinese Daily
seized the opportunity, responded quickly to meet its readers' needs, not only to provide the most up-to-date information on daily events as they unfolded in China, but also actively involved itself in their rallies that sprang up in Sydney and the ACT. The high profile taken by the newspaper was swiftly rewarded by a dramatic circulation rise in a matter of days.
It is also noteworthy that, in 1990, the
Australian Chinese Daily
was first to adopt its layout from traditionally vertical top-to-bottom, right-to-left columns to the horizontal left-to-right format. Mainland Chinese students were accustomed to this style.
Such decisive measures put the newspaper on a very firm foundation; most of those students became regular readers and in many cases, advertisers.
In 1988, the
Australian Chinese Daily
pioneered the introduction of a free weekly magazine – the
Australian Chinese Weekly
, inserted in all Saturday editions. This bold initiative has set the precedence and since become an integral part of other Chinese daily newspapers in Australia.
Contact Details
Australian Chinese Daily
327-331 Sussex Street,
Sydney NSW 2000
P.O.Box K525
Haymarket NSW 1240
Australia
Ph: (02)9261 3033
Fax: (02)9261 3525
E-mail:
info@aucd.com.au