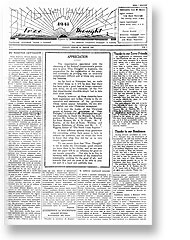 &raquo view at full size
(1Mb PDF file)
Front page
Free Thought
- Issue 1, July 10th, 1949
Free Thought
Since its first issue of 10 July 1949 the
Free Thought
Ukrainian newspaper has played an important role in supporting and informing the Ukrainian community. In the early years the paper served as practically the only source of information for most Ukrainians who settled here.
Based in Sydney since 1949, the
Free Thought
was instrumental in establishing all of the Ukrainian community's organisations in NSW: its women's groups, churches, schools, sporting, cultural and youth associations in the 1950s and 1960s. In the 1970s and 1980s the
Free Thought
established and helped develop such organisations as the Ukrainian Studies Foundations in Australia Ltd which to date funds Ukrainian studies at tertiary level at Australian universities.
In recent decades the paper has continued to serve an ageing community of post WW2 settlers, the second and third generation Australians of Ukrainian background as well as a steady influx of newly arrived immigrants from post Soviet Ukraine.
In 1994 and 2001 the
Free Thought
published 2 commemorative volumes, containing over 1500 pages on the history of the Ukrainian people in Australia. The invaluable Encyclopedia of Ukrainians in Australia, published by the
Free Thought
together with the Ukrainian Heritage Society contains over 2000 detailed and illustrated biographical entries and some 15,000 references to individual Ukrainian names in Australia.
In 2007 an English-language compilation is due to be published. In May 2007, after almost 3000 issues of the
Free Thought
, the paper's founder, publisher and editor, Wolodymyr Shumsky will be turning 85. As the paper marks its 58th year of service in Australia, so Wolodymyr Shumsky, who is still active as editor of the paper marks his 58th year as editor. His vision, his tireless efforts in overcoming the initial difficulties, continuing perseverance have provided unity and inspiration to the whole community and his more recent work in maintaining and preserving our Ukrainian cultural heritage in Australia have inspired 3 generations of Ukrainians in NSW.
The efforts of Wolodymyr Shumsky are yet to be properly acknowledged in this country.
Contact Details
Free Thought
Ukrainian Newspaper in Australia
Ph: (02) 9649 1489
E-mail:
FreeThought@optusnet.com.au