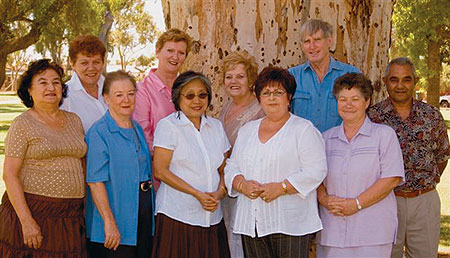 Broken Hill Migrant Heritage Committee Inc
Executive Producer - John Petersen, Manager, NSW Migration Heritage Centre.
Curated by the Broken Hill Migrant Heritage Committee Inc with support from Rebecca Pinchin, Regional Services Co-ordinator, Powerhouse Museum and the Regional Services team.
Historical research and interviews Christine Adams.
Web design by Annette Loudon, NSW Migration Heritage Centre - closely based on original panel design by Janine Roberts, Powerhouse Museum.
The committee acknowledges with gratitude the migrants who shared their stories:

Carrie Anderson, Kata Andrich, Millie Alagich, Rudolph Alagich OAM, Angelina Attard, Joseph Attard, Vinka Bartulovich, Caterina Barzelatto, Margaret Borg, Noris Braes, Anna Caon, Igor Caplygin, Jenny Cattonar, Lorenzo Cester, Rose Cetinich, Evangelina Chrisakis, Nicholas Chrisakis, Italo Dall'Armi, Saverina Dall'Armi, Sister Clara Dal Santo, Dino De Franceschi, Gabriella De Franceschi, Jack De Franceschi, John De Franceschi, Olga De Franceschi, Adelaide De Main, Alexandria (Drosos) Dennis, Nicholas Drosos, Veatrike Drosos, Louis Forner, Con Frangonasopoulos, Giuseppe Franze, Rosina Franze, Bruna Genua, Elsa Kanck, Dagmar Kanck, Karl Karthauser, Italo Martini, Katie Maxwell, Anita Mazuran, Linda McCubbin, Rosina Micallef, Silvana Michl, Anna Murphy, Spiros Niarros, Vasiliki Niarros, Merita Nicholas, Luka Oreb, Maria Oreb, Reg Pedergnana, Maria Petkovich, Petar Petkovich, Ivan Pippin, Joyce Ravlich, Vita La Rovere, Lola Saliba, Bobby Shamroze, Kathy Skiadas, Dina Spagnol, Magarita Sulicich, Vera Sulicich, Emily Tonna, Filomena Tormena, Ivan Vlatko, Jagoda Vlatko, Ramon Ware, Olga Zanette, Luigi Zanette, Ante Zaknich, Marija Zaknich.


This web exhibition is copyright. Apart from fair dealings for the purpose of private study, research, criticism or review, as permitted under the Copyright Act, no part may be reproduced by any process without written permission.
Broken Hill Migrant
Heritage Committee Members

Barbara De Franceschi OAM (Chairperson)

Pam McRae
(Secretary)

Maria Petkovich
(Treasurer)

Christine Adams
(Project Officer)

Cliff Braes

Anita Mazuran

Fran McKinnon

Katie Maxwell

Merita Nicholas

Bobby Shamroze

» More info