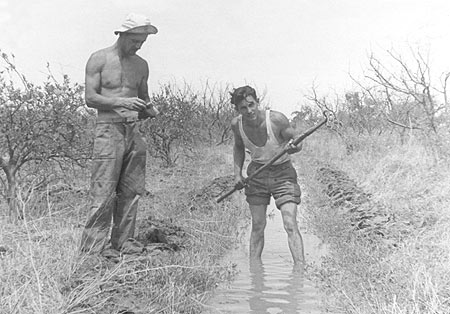 Pietro Barzelatto and friend, Menindee. c.1953
I remember during the Depression the miners used to march with the Red Flag in Argent Street and finish up at the Trades Hall. They were given some food: vegetables, cabbages, cauliflowers and a few other things just to live. I remember those days.
Paul Sultana

I said to Joe, "We have to work long hours, so we'll work together". I did all the work when Joe was not around, I tell you! I was not afraid of hard work.
Rosina Franze

The New South Wales Government contracted the Broken Hill Water Board to connect the sewerage in the city because only a small part of Broken Hill had the sewerage on. When I first started with the Water Board, I operated the jackhammer, digging trenches. I was quite happy to do that.
Ivan Vlatko

I worked at the Gas Works. They gave me a traineeship in the yards. If you worked overtime you would get twenty five to twenty seven pounds a week. That's what I was looking for.
Giuseppe (Joe) Franze
My first job in Australia was working at the Gas Company shovelling coke. I stayed on for about two weeks and then my brother and I got a job in Menindee with Water Conservation.
Karl Karthauser

A lot of migrants worked for the Water Board because most of them were unskilled. There were very few Australians.
Con Frangonasopoulos

After a few years in Broken Hill and teaching myself English, I decided to apply for a position in the Post Office. I had to pass an IQ test and I passed very well, so I was offered a job which I accepted.
Luka Oreb

Manda took in boarders and washed clothes for single Yugoslav men to make extra money. There were many men who came out on their own, virtually penniless.
Joyce Ravlich
They walked to the mine day after day. Eventually, because they weregood workers, they got a job on the mine. My father was there for twenty five years.
Ante Zaknich



We operated poultry farms, market gardens, bakeries and dairies. We were shoemakers, dressmakers and tailors. We were housekeepers, cooks and carers...


There was another German fellow there, and on weekends and some nights we had a contract with him to go and catch rabbits with rabbit traps. We doubled our wages, just catching rabbits. They had to be cleaned and dressed and I got five shillings a pair.
Karl Karthauser

We had a roaring trade in those days in the shop because we were the only fruit and veg shop out the South. We had our fresh stuff from Stephen's Creek and we often drove to Port Pirie on a Saturday to get a load of tomatoes.
Angelina (Anne) Attard

I worked in the bush because for me, it was quicker to make money when it was needed. After that I moved into Broken Hill and I found a job on my own.
Luigi Zanette



... we shared the Lode.


We raised chooks. I don't know how I did it but my husband wouldn't kill the chooks, so I did — then I hung them up for a day. I boiled the copper in the yard and plucked and cleaned them the next day. The following day I cooked them but I don't eat chicken now!
Dina Spagnol

I left the Snack Bar when I got a job on the mine. I worked in the Mill at NBHC (New Broken Hill Consolidated) for twenty six years until I retired.
Spiros Niarros
John De Franceschi arrived in 1950, followed by his three brothers: Jack, Cesare and Dino. The four brothers consolidated a family business under the name of De Franceschi Brothers.
Barbara De Franceschi


click to enlarge »
My first job in Australia. - Karl Karthauser

click to enlarge »
Pietro Barzelatto and friend, Menindee. c.1953

click to enlarge »
Larry was a miner at the Zinc Corporation for over thirty two years. He and his sons accumulated over one hundred and seventy years service...

click to enlarge »
Angelo Forner at work

click to enlarge »
Mum plucked and cleaned the chickens all by hand. The Broken Hill Hospital was their main customer...

click to enlarge »
Hugo Wertheim sewing machine...
click to enlarge »
1936-1937 accounts ledger from E. A. Pedergnana's store...