Project details
Fishing practices and experiences enable people to recall the past of their homeland or childhood through the fishing skills they learned from older generations. These memories, and the adaptation of skills to a new land, mean that there is a strong heritage element to what we may sometimes consider a recreational pastime.
The migration experiences, history and heritage legacies of various community groups will be explored through Fishing the Georges River: A Pilot Project on Migrancy, Adaptation and Conservation – Using Old Skills to Learn New Environments.
The case study area for this research project is the Georges River estuary in south-west Sydney, between Casula in the east and Lugarno in the west, with a focus on Indigenous Australian, Anglo-Celtic, Vietnamese and Arabic-speaking communities.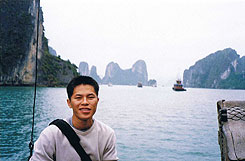 Huy Pham, Halong
The multimedia exhibition, Gold and Silver: Vietnamese migration and relationships with environments in Vietnam and Sydney is associated with this project and is available exclusively through the NSW Migration Heritage Centre's website.
Gold and Silver looks at people's changing relationships with environments in Vietnam and Australia. Through four personal stories of former Vietnamese refugees and migrants, the exhibition explores their attachment to homeland and nature before and after leaving, and will allow you to hear, through sound recordings, memories of escaping Vietnam and making new homes in Sydney's south-west.
Gold and Silver is a NSW Migration Heritage Centre partnership project with University of Technology, Sydney (UTS) and the Department of Environment and Conservation (NSW).
PROJECT CONTACT:
Associate Professor Heather Goodall, Faculty of Humanities and Social Sciences, UTS
Address:
PO Box 123, Broadway NSW 2007
Tel: 02 9514 2284
Email: heather.goodall@uts.edu.au