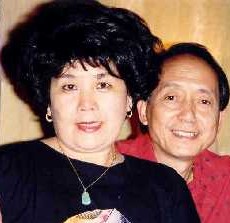 Helen Hu
Canterbury's People: Helen Hu was born in China and migrated to Australia in her early 50s. She is very grateful to be living away from the oppressive government there and has wholeheartedly embraced Australia and its opportunities. Her desire to give back to the community led her to establish a very successful social group for seniors.
Interviewer: Kelly Lu
Childhood years in China
Helen Hu was born Mei Hu in Shanghai, China in 1939. Her father ran a small motel and her mother worked at home. Helen was one of two children.
Helen always liked dancing and as a child she learned country dancing and performed at festivals. However by the time she was 11 years old, the influence of the Maoist communist government meant that all festivals were politically controlled. During Helen's childhood years Mao was treated similar to a god.
When she finished high school Helen trained as a teacher and worked as one for two years. In 1959 she married Pei Yu, now known as James, at the age of 20 and they had two children. In her late 20s the Maoist-controlled Cultural Revolution began, and in the following years Helen experienced some of the injustices carried out in the name of the Revolution.
Life in Maoist China
Helen's father got into trouble with the authorities since he ran a business and followed the Kuomintang (the government overthrown by the Communists). He was sent to gaol for two years although Helen believes he didn't do anything wrong. Her father always thought the Kuomintang would return to power, but so pervasive was the Communist oppression, he did not dare say this openly, and whispered this to Helen.
The Communists influenced every aspect of life, including primary school. They attempted to impose equality; so if your family was poor, they would be proud of you but if your family was rich, you had to hide the expensive things. Helen's family were not rich but they had some money. She was told not to wear nice dresses to school for fear of being victimised and singled out as a rich person.
The Maoist-led cultural revolution was at its height 1963-73 and people were encouraged to inform on their neighbours to the government for "anti-Communist" activities. A friend of Helen's family performed in opera and had a costume of a king. A neighbour saw her airing the costume at home and wrote to the authorities that the singer wanted to become king of the country and she was sent to gaol! Another friend used a newspaper with a picture of Mao on the front page (he was on the front page of every newspaper) to light the coal-fired stove, and her neighbour reported her for burning a picture of Mao. She also was sent to gaol for this "crime".
In the Maoist period, it was government policy to send students and 'professional' workers to the countryside, often a long way from their home city, at times providing manual labour on the collective farms. Helen knew of a girl forced to work in the country who was raped and thrown down a well by villagers. She also recounts the sad story of a friend of her sister who was forced to teach in a small country village. In her diary she recorded her feelings of how sad she was to be separated from her family and that she hated the government for separating them. Her diary was found and she was exposed, put on trial and executed for this "crime". Years afterwards there was an inquiry into the incident and compensation was paid to the family for the loss of their daughter.
Helen and James had accepted the government, but these and other events gradually changed their thinking. They were scared their children would be forced to work in a remote part of the countryside, "afraid that maybe my daughter, my son, would be treated in the same way".
It was these feelings and the experience of her father being gaoled that finally made Helen and James decide they would have to leave China.
Religion
Helen's family, like many in China, were Buddhist. They observed Buddhist festivals, prayed at the temple and when they were sick where they would be given incense ash for healing purposes. But in the Maoist period of 1950s-70s, attending a Buddhist gathering could result in arrest and gaol. The family couldn't display Buddhist statues, and if they prayed they would close the windows to keep it secret. Helen had a friend who became a Buddhist nun, and the friend was sent to gaol for this.
Upon arrival in Australia, Helen attended English classes at the Uniting Church's Wesley Mission.
She became a Christian and joined their congregation. Helen "feels peaceful at church".
Leaving China
James left China first by going to Singapore to visit a friend. From there he went to Sri Lanka through an invitation from another friend who found him work as a cook. He came to Australia in 1985 when a friend sponsored him as a skilled migrant and arranged a job as a chef for him here. Their children were then aged 20 and 24 years. Helen came to Australia five years later when her husband was granted permanent residence. Helen arrived alone as her son was working in Spain and her daughter was married and living in Hong Kong by then. Helen only knew about Australia from friends: one said it was a beautiful place, another friend told her of the White Australia policy. Helen expected Australia to be a better place to live than China because "there was no Mao Tse-tung here".
She did not bring much with her; the main items were precious family photos. Helen believes her photographs tell a story; her and her husband's strain and unhappiness in China is reflected in them, in contrast to Australian photos of them looking very happy. Her first impressions of Australia were of the beautiful sky, the Opera House, and the kindness of people. She first lived in Sydney's eastern suburbs and then the couple bought a unit in Lakemba in 1996, where she now has many friends.
Lakemba Stars Seniors group
When she settled in Lakemba, Helen saw the need for new migrants to get together to meet, talk and support each other, learn English and to exercise. In 1998 she wrote to Canterbury City Council to ask for the use of a Council building as a meeting place. Council provided the use of the Lakemba Seniors Citizen Centre for what became the Lakemba Stars Seniors Group. She initially recruited members by advertising in the local Chinese newspapers, but Helen later invited people from other ethnic groups meeting at the Senior Citizens Centre and the group expanded to include seniors from various backgrounds, including Chinese, Korean, Greek and French.
The group meets every Sunday and now has 160 members, including 30 from outside the Canterbury City area. Some members come from as far as the Blue Mountains. Their main activity is ballroom dancing and dancing is a pastime Helen has enjoyed throughout her life. She recalls some members who, before they joined, were, "very lonely, going to the casino losing a lot of money. Their friend said 'come to Lakemba', they said 'I don't know dancing', they said 'Helen and the group will teach you'".
The group is very important to Helen, both as a social group and as a way of helping others to be a part of the Australian community. The group is now very popular, new members now come by word of mouth, "people come too much" and with 80 people attending every Sunday, it's almost too big to manage.
Helen praises Council's response to the needs of senior citizens and to the migrant community and says, "Australian people look after older people".
Adapting to life in Australia: learning English
Helen arrived in Australia without knowing English since people in China had not been allowed to study the English language in earlier years. Travel overseas and leaving the country was illegal for most Chinese people until the late 1970s and continues to be made difficult by the government. Until more moderate policies were introduced, learning English was viewed with suspicion since it was perceived as a way for people to escape their oppressive lives under communism.
Helen was very keen to learn English for her to fit in Australia. She attended English classes at Wesley Mission in the city, where she found people to be very kind. She listens to English language TV and tries very hard to use it. She can now understand much of what people say. The local Canterbury libraries at Lakemba and Campsie are very important for her, she loves to read in both Chinese and English in her continual quest to improve the latter. She is very proud of a photograph of her giving a speech on the stage at the Seniors' group, where she spoke in English and people understood her!
Feelings about China
Now she is an Australian citizen, Helen doesn't think of herself all the time as 'Chinese' although she still loves China. Helen feels migrants should try to fit into Australian culture rather than trying to keep their own culture, and of herself believes, "I must follow".
Helen's son has worked in Spain for many years and married a Chinese woman there about 15 years ago. When they married, they didn't have much money for a wedding ceremony. They returned to China and had a wedding ceremony there four years ago when their oldest child was 10 years old. This was the only time Helen has returned to China since she left.
She sends money at Christmas to older relatives in China, but her memories are very sad and she doesn't want to dwell on her former homeland, she "just wants to say goodbye". Her husband would like to be buried in China when he dies, but Helen is adamant to be buried in Australia. For her there is no desire to go back.