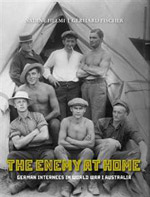 The Enemy At Home
During World War One nearly 7000 so-called 'enemy aliens' were interned in camps in New South Wales. One was young Bavarian photographer Paul Dubotzki whose remarkable photographs record the experience of internment from 1915 to 1919. In 2007 his entire archive was discovered in the small German town of Dorfen and it has been brought to Australia for the first time.
Dubotzki's photographs tell an extraordinary story. Australians of German and Austrian descent, and Germans captured by the Allies in Asia, were imprisoned in isolated camps. These internees from all walks of life transformed their situation in detention with ingenuity, industry and determination. They created intricate societies with cafes, clubs, newspapers, an array of small businesses, theatres, tennis courts, kitchen gardens, laundries, boat-building and regattas, beach activities and athletic demonstrations.
War  soured relations between Australia and Germany, halted immigration, and overshadowed the lives of many German-Australians. But the wounds healed and the post-war migrant ships brought another wave of German speakers. These 'invisible' migrants proved to be popular new Australians.
The Enemy At Home was an Historic Houses Trust of NSW and NSW Migration Heritage Centre partnership exhibition, publication and online exhibition to tell the story of artistry, ingenuity and resilience that revealed a little-known part of Australia's wartime history.
The Enemy At Home  exhibition was at the Museum of Sydney from 7th May 2011 to 11th September 2011. The exhibition was initiated by Stephen Thompson of the NSW Migration Heritage Centre with Mark Viner of the Historic Houses Trust of NSW.
The partnership drew from State-wide internment collections research and documentation by Stephen Thompson for the Centre's online Objects Through Time exhibition and our commissioned history partnerships since  2005 in the former NSW internment camp districts and one significant former German community region. The Enemy At Home drew from the Trial Bay Gaol thematic study, commissioned by the Centre and the NSW National Parks And Wildlife Service, which was written by Gerhard Fischer and Nadine Helmi in 2005 and edited by Stephen Thompson in 2006. The exhibition also drew from the Centre's partnership with the Berrima District Museum assisted by Bob Williams, Annette Brown's research into local German farming communities in the late 19th century and early 20th century for the Centre's 2007 Germantowns, Germanstories  thematic study with the Museum of the Riverina (in Holbrook, Ganmain, Lockhart, Temora, Walla Walla and Wagga Wagga) and the Casula Powerhouse and NSW Heritage Branch partnership with the Centre in 2008 which included a commissioned history by Virginia Macleod for the Liverpool Migration Heritage Project with assistance from Daniela Ristevski of the Liverpool Regional Museum and Phil Hurren, Australian Army Museum of Military Engineering, Holsworthy Army Barracks. 
Order a copy of the publication through University of NSW Press. https://www.unswpress.com.au/isbn/9781742232645.htm
more