This paper was presented at Moving Cultures, Shifting Identities: a conference about migration, connection, heritage and cultural memory, Flinders University, Adelaide, December 2007
---
Belongings: post-WW2 migration memories & journeys presentation by Andrea Fernandes, NSW Migration Heritage Centre

INTRODUCTION
BELONGINGS
THE NEED FOR BELONGINGS
WHAT BELONGINGS IS
HOW BELONGINGS WORKS
WHY BELONGINGS IS IMPORTANT
CONCLUSION
INTRODUCTION
Let me introduce you to Elizabeth Mergl from Sydney.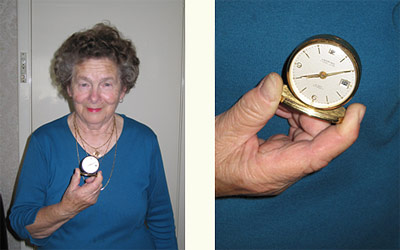 Elizabeth Mergl and her timepiece.
Elizabeth fled from Hungary and migrated here via Austria and Italy in 1949 with her husband and two young sons.
She is now 85 years of age and has kept this tiny timepiece for decades.
Elizabeth is one of three million migrants from a vast number of countries that came to Australia in the years following the Second World War.
And like all of us, Elizabeth and her timepiece have a story to tell.
BELONGINGS: POST-WW2 MIGRATION MEMORIES & JOURNEYS
Belongings is a project I've coordinated for the New South Wales Migration Heritage Centre for the last two years.
The Centre was established by the New South Wales Government in 1998 to record and document the history of migration to New South Wales from 1788.
It's an online heritage centre which can be visited at www.migrationheritage.nsw.gov.au. It doesn't have its own collection. It cannot be visited by the public. But it works with organisations that do, and encourages them to work on community oriented programs and be inclusive of the nation's non Anglo-Celtic heritage.
Supported by the Community Relations Commission, the Centre was at the New South Wales Premier's Department for four years before relocating to the Powerhouse Museum in Sydney in 2003.
· THE NEED FOR BELONGINGS
We may not always be aware of it, but most of us have keepsakes in our homes, some that we put away decades ago.
It may be a small gift, an heirloom or an everyday item. Can you think of what you have at home – possibly tucked away in a drawer somewhere – that you've had for years that has a special meaning?
If we think about it, our homes are the nation's museums. Our belongings are on the kitchen stove, under the bed, at the back of the shed.
These belongings are mementos that tell stories about us and our families and friends.
But, sadly, when people die, too often their possessions are being thrown in the tip. No-one knows what the items mean or what stories they tell. This is common among former post-World War Two migrants.
Between 1945 and 1974, Australia 's population almost doubled. In New South Wales alone, four out of ten people are migrants or their children. They brought with them cultures and traditions that changed the lives of all Australians forever.
As this generation passes away and their belongings are being dumped, younger family members wish they knew more about Grandad or Mum and asked them questions whilst they were still alive. Why did Pop migrate here? What did Mama bring with her and why? What was life like for a "new Australian" in the 1950s?
Too often this history is lost. Belongings helps to save some of this history.
· WHAT BELONGINGS IS
Belongings is a website exhibition which you can visit at www.belongings.com.au. Personal, first-hand experiences of post-World War Two migrants are recorded through their special memorabilia, or belongings, in English. We meet people in their homes – the nation's museums – and they share with us the stories behind their mementos.
Around 90 Belongings oral histories are now live. If you go to "View memories by", you will see interviews are sorted by participant name, cultural background, country of departure, year of arrival and migrant accommodation.
Interviews can also be sorted by project partner. Belongings partnerships help the Centre to work more closely with local communities across New South Wales.
A historical context and advice on how to care for belongings is also online.
An original concept by John Petersen, the Centre's manager, one of Belongings' influences is the National Quilt Register which tells stories about people's lives through the quilts they make.
I would also like to acknowledge heritage consultants Meredith Walker and Kylie Winkworth, community historian, Mary Ann Hamilton, and community heritage officer, Linda Nellor, for their conceptual advice and support.
· HOW BELONGINGS WORKS
So how does a former migrant end up "going live" on the Belongings website?
This is one of the most critical aspects of Belongings : working with the participant.
Working with the participant
One of the project's most distinctive features are the poignant, sensitive recollections disclosed. This is a statement about the care taken when we work with the participant.
Being a part of Belongings is a major, revealing commitment. For most participants, it's the first time they've been audio interviewed and photographed. The first time their memoirs have been publicly exposed to a worldwide audience. It's not uncommon for interviewees to be frail and have a first language other than English.
We understand participants are members of the general public and ensure they're willing to participate, know what's involved and that their input is valued. Discussing this can be timely and is important to factor in. We want them to feel comfortable, safe and relaxed. We are sensitive to this.
Generally interviews take place in the participant's home where they are most likely to be at ease and with their belongings.
For some, a transformation takes place from them initially being nervous and guarded, but it can be a while before they relax. A participant from Albury once told me that being interviewed for Belongings was, "So emotional. My thoughts were flying in all directions."
This is okay. It doesn't affect the final Belongings material. The raw audio interview is reduced to an edited, written summary with the informal, conversational style maintained.
Talking about the past can be painful and traumatic so sometimes extra care is taken. For example, when working with the Sydney Jewish Museum, an interviewer who has experience of working with Holocaust survivors was selected.
Talking about the belonging also jogs memories. In Belongings, Helen Sowada vividly recalls "bawling" when she held her koala. It was a leaving gift from her husband 50 years ago before he left for dangerous work in the Snowy Mountains. In this photo, you can see the special relationship between the participant and their belongings item.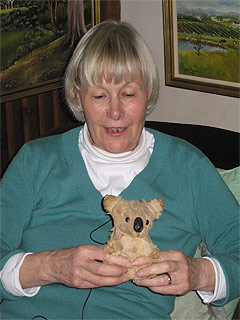 Helen Sowada vividly recalls 'bawling' when she first held the koala in 1957.
The next step is sign off which can be a lengthy procedure but is important to accommodate with patience and sensitivity.
Some participants are confronted by reading about things they have never disclosed before. Others are surprised at seeing their patterns of speech in written form.
Richard Cebulski told me his mother's Belongings account brought him to tears because he felt he was listening to her. He could almost hear her talking.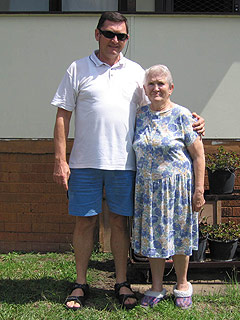 Maria Cebulski with her son, Richard. He could 'hear Mum talking' in her Belongings memoir.
The Belongings "look"
The final stage is to "web up" the material so it has the Belongings "look". The approved text is placed in a design wrapper, accompanied with key stages of the oral history, belongings images with captions and pull-out quotes. This is handled by the Centre's Website Coordinator, Annette Loudon, who designed the Belongings website.
· WHY BELONGINGS IS IMPORTANT
There are three key reasons why Belongings is important.
Belongings raises the profile and place of personal memorabilia and its documentation and community value
Belongings illustrates the powerful connection between oral history and objects.
Physical objects trigger hidden memories with great depth. The oral history becomes richer and more graphic.
State moveable heritage policy advocates for belongings to be kept in situ within the family home rather than donated. In situ, the meaning of the object is maintained. It's not lost in an archive; many items in public collections do not see the light of day.
Con Frangonasopoulos used his brick-making machine to create 45,000 bricks for his first house in Australia, which he bought in Broken Hill in 1959.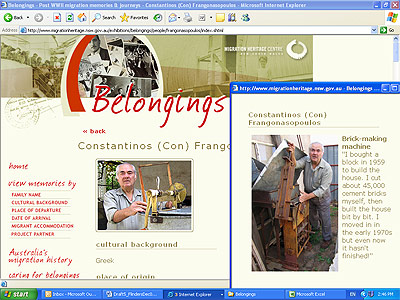 We learn about these hidden meanings through community participation and knowledge.
Without this documentation, more important stories about our nation's heritage will be lost forever in the tip.
But with this documentation:
mementos will be passed down within families with their stories and meanings understood;
historians will know which memorabilia items are important and why; and
curators can request a loan from the private owner for museum exhibition displays.
Belongings validates migrant communities, their experiences and belongings
Many Belongings participants say they don't have an interesting story to tell. Some are guarded and suspicious. Why would a stranger, let alone the Government, care about me? I'm ordinary and have nothing special to say.
But a transformation takes place. Participants talk with pride about stories from the past. They are flattered the Government recognises their story is special and that "newer" Australians are included when commemorating the nation's past.
Participants are revealing and honest. Some disclose very personal memories they have never discussed before. Sometimes it's simply because no-one had ever asked. Others were too embarrassed to tell anyone at the time and are ready to talk now. This empowers communities and is good for well-being and social cohesion.
Some participants initially say they don't have any mementos. Admittedly, this may be true for some former refugees and child migrants. However, the vast majority do. As we all do. We're just not aware of them. Some pop up during the interview in the participant's home. Just like our homes, their belongings lie on the kitchen stove, under the bed, at the back of the shed.
Belongings does include intricate heirlooms and items of historic significance but they can also be everyday items or something plain-looking. What's important is the story they communicate. One simple spoon becomes a treasured item when the meaning behind it is known.
Belongings tells us Joe Cudar's spoon – that sits in his home in Orange – was made from Second World War military aircraft and he bought it whilst resident at a Displaced Persons' camp in Europe.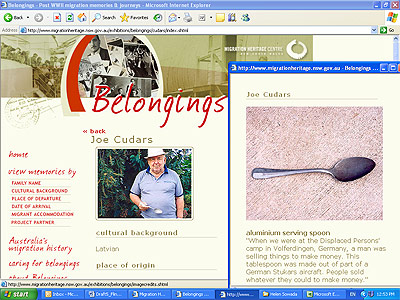 Belongings alerts communities to review their possessions and take note of the meanings they hold. Everyone has a story to tell and many of us have mementos that illustrate our past.
Belongings makes heritage and history more accessible and appealing
Belongings is unashamedly populist. It makes heritage and history accessible and appealing.
Belongings is an informal community history about personal lives. We feel what it was like to migrate and settle in Australia immediately after the Second World War. What it was really like. The insider's view, not the Government's. Seeking medical advice and not being understood because of poor English. Working on dangerous public projects. Going to the land of opportunity for an exciting adventure. Missing loved ones the other side of the world and this side.
The general public connect to these feelings. They are human stories. But Belongings is not a dumping ground of meandering anecdotes. The interview is based on a heritage framework linking people with places, dates, objects. Important historical information is captured.
Belongings also presents history in an accessible form.
The final interview is reduced and edited for brevity and clarity. For those keen to hear the original interview, the audio file can be accessed if the participant agrees.
If you're not in the mood to read 2,000 odd words, the website design has "teasers" so Internet users can browse a brief snapshot of the participant.
Within minutes, we learn Maria Cebulski is of Polish background, arrived in Sydney in 1950, spent almost ten years at three migrant hostels in New South Wales ( Bathurst, Cowra and Scheyville) and her first job in Australia was a farm labourer. We discover – through her belongings items – there was no meat at the Displaced Persons' camp in Germany and residents were forbidden to cook in Australian migrant accommodation.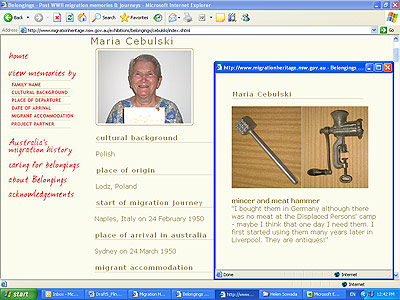 When you are in the mood to absorb more, the main oral history text appears in bite-sized paragraphs which is good for the web.
As a medium, the Internet is immediate, catchy and democratic. If you're hooked up, you can access the Belongings website anywhere in the world, any time of day, within seconds.
The Internet can also be easily updated. New oral histories are being added to Belongings right now. This is terrific for regular site visitors.
Belongings engages with a wide and diverse audience because it is accessible and appealing. It brings Australian social history to audiences new and old.
Through Belongings we meet people in their homes – the nation's museums – from the comfort of our homes, libraries, workplaces and schools.
Private collections go public. Our society becomes more aware of the nation's past and the impact post-World War Two migration has had on all our lives.
CONCLUSION
In this paper, I have brought to light what Belongings is, how it gathers post-World War Two migration memories and journeys and why it's important to us.
Here's Elizabeth Mergl who you met right at the beginning. This is why she's held onto her timepiece for over 60 years: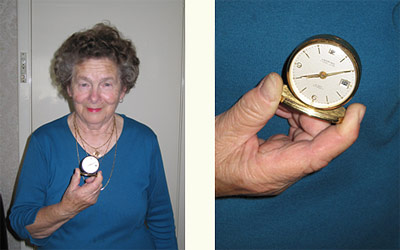 It was 1944 and we managed to walk to Austria in two weeks. By then I had my first child and [was] two months [pregnant] with my second son. This little clock was our timing for the baby, to know what time it was to have food, not when he cried for [it].
Without Belongings, how would we have known this?
There are millions of former migrants just like Elizabeth. Let's not dump the nation's history down the tip. Let's start saving the past.
Andrea Fernandes
Belongings Curator
NSW Migration Heritage Centre
December 2007

Migration Heritage Centre NSW
Crown copyright 2005 ©