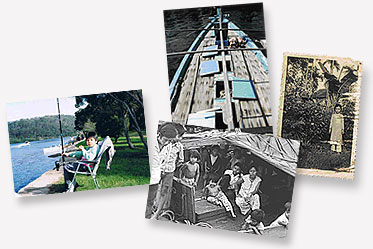 'Gold and Silver' looks at peoples changing relationships with environments in Vietnam and Australia through four personal accounts of refugees and migrants from Vietnam. Here, you can explore people's attachment to homeland and nature before leaving, ongoing connections to homeland and revisiting, stories of escape and moving, as well as making new homes and attachments in Sydney's south west.
These histories show us how cultural knowledge shapes the ways Vietnamese Australians know places and make places home over their lifetimes - whether it's the Perfume River of Hue or the Georges River parks like Chipping Norton in Sydney.
You can follow Huy Pham who left Saigon as a child, Thanh Hue who fled with her young family from central Vietnam and the Nguyens who left Hanoi to study in Australia and decided to live in Sydney. Otherwise, you can explore the themes of Homeland/Journey/New Home/Revisiting across these accounts.
There are many more Vietnamese Australians' histories which can be told - this is just a taste of the rich senses of place created by people who have left Vietnam and now call south west Sydney home.