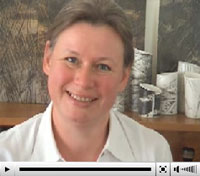 Settling in Sydney



In the years following World War II, many Estonians settled in Sydney, including one community in the south-west at Thirlmere. Some established poultry farms while others worked in local industries such as Driclad, a plastics factory in Cabramatta.

Today their children and grandchildren have spread throughout Australia and work in a wide range of professions.




Farming in Thirlmere
By the 1920s the first wave of Estonians had settled at Thirlmere, near Picton. Known today as old Estonians or vanad Eestlased, they cleared the bush to establish poultry farms,and orchards. A second wave of Estonians followed after World War II. The original settlers helped them to establish their own farms. At one time about 250 Estonians lived in the Thirlmere area on about 60 poultry farms. Learn more about Estonian poutry farming in our online exhibition
From Estonia to Thirlmere
.
Today there are only 100 or so Australian Estonians still living in the region.
A hard life
'Never had holidays, there was no free time.'*
Ilma Maidla describes her life on the farm. Keeping hens was labour intensive. Eggs were collected, sorted, weighed and washed daily. For 26 years Ilma Maidla washed 2–3000 eggs by hand each day. She used a weighing machine in the 1960s and today her son Imant uses it to weigh the eggs from his few chickens.
* Ilma Maidla, interview, 2005
Apple farmers
'I loved those apples.' *
Lorraine Alp describes the apples grown on their orchard. The Alps bought their farm in Thirlmere in 1932 and grew Jonathan, Delicious, Granny Smith and Macintosh apples.
The Alp family had migrated from Estonia in 1927 and were part of the original older settlement in Thirlmere. They were known as old Estonians or vanad Eestlased.
* From Estonia to Thirlmere — stories from a unique community, The Oaks Historical Society, 2005
Saunas
Saunas were an important part of Estonian family life, both in the country and in the city. Ron recalls 'The first thing we built on the family farm was the community sauna... the men would go in first, then the women and children — every Friday night'.*
* Ron Silm, interview, 2005.
Old traditions in a new country...
'The joys of heat, steam, birch or eucalyptus leaves for beating one's skin...'*
Reet Simmul remembers how much she enjoyed the sauna she built in her Sydney home. Most saunas were constructed of pine and leftover material like packing cases. River stones brought from the Warragamba Dam project were used to heat the sauna, and were reheated and cooled many times. Bound eucalyptus leaves were soaked in water to soften them before use.
* Reet Simmul, interview, 2006
Disneyland
demand for plastics

In the 1950s the demand for plastic was phenomenal and Driclad produced a wide range of products ranging from Disney toys to raincoats.
The company also produced inflatable toys, pictured here with the Keskula children playing in a Driclad pool. Their parents August and Tamara met and married while they both worked at Driclad.
Today, the trade name survives in Driclad swimming pools.
Image courtesy August Keskula
Porcelain cylinders
'Memories are timeless. We don't know when they enter.'*



These eight cylinders are examples of Maiju Altpere-Woodhead's recent work.
'My works are about physical layering of different colours of porcelain and about layering of memories.'*
Ceramicist Maiju Altpere-Woodhead migrated to Australia in 1993. In Estonia she had worked as an animator and a children's book illustrator.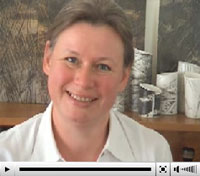 Interview with Maiju Altpere-Woodhead »
Cylinders lent by Maiju Altpere-Woodhead

* Maiju Altpere-Woodhead, interview, 2006