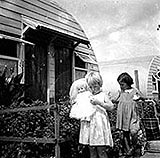 Eilish McNeice with a
friend at Cabramatta
Migrant Hostel, 1959,
courtesy Desmond
McNeice.
Who's involved
Fairfield City Museum & Gallery
Fairfield City Council
Migration Heritage Centre
Powerhouse Museum
NSW Ministry for the Arts
When and where
Project location: Smithfield, SW Sydney
Project status: Completed project
Date of completion: June 2003
Project description
Through stories, keepsakes, photographs and an interactive DVD, this exhibition explores the personal experiences of children who lived in Villawood (Westbridge) and Cabramatta hostels from the 1950s to 1990s.
The journeys of six child migrants are traced from homeland to hostel to home, and are linked by a common thread including loss of home, friends and family; language problems; dificulties at school and work; and unfamiliar food in the hostels.
Project contact
Susan Hutchinson – Coordinator
Fairfield City Museum and Gallery
Phone 02 9609 3993
Fax 02 9757 4357
Email shutchinson@fairfieldcity.nsw.gov.au
Address:
Cnr The Horsley Dr & Oxford St
Smithfield NSW 2164
AUSTRALIA