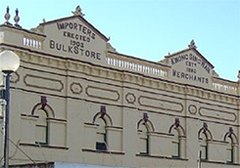 Kwong Sing building
If you walk along the main street of Tenterfield, look above the awnings that shade the footpaths and read the surviving signage, you will see 'Kneipp. Established 1892. Saddle and Harness Emporium' and 'Paragon Buildings'. And, at street level, 'Sing Wah Restaurant' and 'Uncle Tom's Chinese Cuisine'. In Glen Innes, there is 'Kwong Sing and Co', 'Dragon Court Restaurant', 'A Meyer's Bakery', 'Paragon Café', 'Schmidt Jewellers', 'Shen Yen Restaurant' and 'Yim Thai Restaurant'.
If you visit McCrossins Mill Museum in Uralla, you will encounter a re-creation of a Chinese temple and, at the Land of the Beardies History House in Glen Innes a display about local entrepreneur J.F.Utz. In the Wing Hing Long Store Museum in Tingha you can experience a Chinese-Australian owned general store from the early to mid twentieth century. In the Emmaville Mining Museum you can view – and sometimes handle – samples of the minerals and gems whose discovery brought bursts of people from many different cultural backgrounds to the area.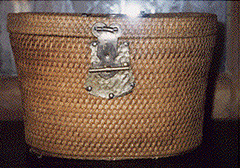 Chinese teapot basket (Inverell Pioneer Village)
These are a few of the many tangible reminders of the past and present contributions of immigrants from non-English-speaking backgrounds to the history of the New England Tableland in northern New South Wales.
Different Sights is documenting their stories, and the people, places and objects that help to tell those stories. The aim is to seek and present the different perspectives and emphases that emerge when the focus is on the histories of immigrants who, so often, were seen to be on the margins of their local communities. From the Chinese and German indentured farm labourers of the 1850s and 1860s, through the rushes of people from different backgrounds who followed the discoveries of gold and tin, to the Lebanese, Greeks and Italians who made livelihoods through small businesses and the increasingly diverse cultural backgrounds and diverse occupations characterising those who have come to the region in the second half of the twentieth century and into the twenty first century.
The patterns and stories that emerge were told through a thematic study that was published in 2009, both in print and online, and through a searchable online database.
Different Sights invited participation from family members, descendants of early immigrants and local residents.
Explore the Different Sights database »
For further information contact:
Janis Wilton,
School of Humanities,
University of New England,
Armidale NSW 2351.
Email: jwilton@une.edu.au.
Phone: 02 4932 1992 (in 2007) or 02 6773 2107 (in 2008)
Different Sights is funded and supported by: