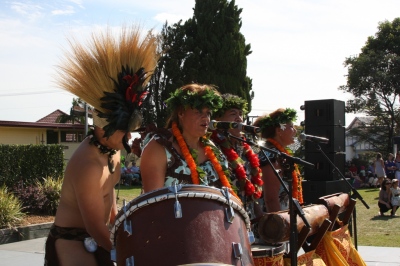 Bexley Park during 'Food 'n' Groove' (A celebration of music, food and
dance from around the world), 22 October 2011.
To date heritage in Rockdale has been represented by places from all historical periods up to the Second World War. The post- War period to the present is significantly under-represented. The community of Rockdale City has altered dramatically since the Second World War and is now home to a population of which 45% of people were born overseas. This population includes large Chinese, Greek, Macedonian, Lebanese, Italian, Egyptian, Bengali communities and many others. The multiplicity of places of worship, such as orthodox churches, mosques and temples, are the most recognisable expression of these cultures – less obvious is the cultural significance of the parks and reserves which also have a strong connection to the history of different migrant communities.
This study is being undertaken with a 'Your Community Heritage' grant from the Federal Department of Sustainability, Environment, Water, Population and Communities under the subprogram 'Sharing Communities Heritage Stories'. It  will be supplemented, in part, with funding from Rockdale City Council and support from the NSW Migration Heritage Centre.
Objectives
- To undertake a thematic history of the parks of Rockdale Council local government area focussing on parks which are specifically used by post-World War Two migrant groups;
- The thematic history will include general background history of migration to the Rockdale after the Second World War; and 
- The thematic history will include the general background history of each park but will concentrate on the historic sub-themes of celebration,recreation, forming communities, religion and events.
The thematic history will include the general background history of each selected park, photos of key site features and the people interviewed – and a large component of the project will be oral history interviews in the parks and reserves.
The Rockdale City Council aims to produce a publication about the parks and reserves as part of this research partnership and the NSW Migration Heritage Centre will produce a web exhibition.
Further information:
Louise Thom
Heritage Advisor
Rockdale City Council
P: (02) 9562 1746
E: lthom@rockdale.nsw.gov.au
Available every Tuesday