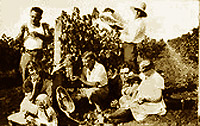 Fruits Of Our Labour is a Griffith Italian Museum community heritage study researching how Italian farmers, irrigators and viticulturalists helped, along with other cultural groups, transform the Griffith region from a largely treeless plain to the Murrumbidgee Irrigation Area – a nationally important area for growing and processing rice, grapes and citrus and stone fruits. Italian migration to Griffith goes back to 1913; many of these migrants in this era were former miners from Broken Hill.
The heritage study was contracted to Associate Professor Paul Ashton and researcher Jennifer Cornwall from the Australian Centre for Public History, University of Technology, Sydney.
An illustrated community history book entitled Fruits Of Our Labour: The History Of Griffith's Italian Community by Jennifer Cornwall was launched by the then Minister for the Arts, the Hon. Frank Sartor MP at the Griffith Italian Museum on 31 August 2007.
The book was published as part of the first stage of a community heritage study highlighting how Italian migration has formed a diverse community in the Griffith district with a shared identity and sense of place.
A second stage of the study saw the Griffith Italian Museum providing outreach to local families helping them document their collections in the context of the history. Movable heritage collections identified are now featured in the NSW Migration Heritage Centre's Objects Through Time online exhibition.
The study is supporting the Griffith City Council's initiatives in promoting the Italian history of Griffith and its living cultures through heritage interpretation and cultural tourism. In 2010 a heritage trail was produced by the Griffith City Council in partnership with the NSW Migration Heritage Centre and the Heritage Branch, Department of Planning (NSW).
The book and heritage trail are projects of enduring significance for the people of Griffith and all students of Australian history and milestones in a continuing community and government partnership to record and celebrate Griffith's Italian cultural heritage.
To order copies of Fruits Of Our Labour please contact the Council Librarian, Griffith City Council.
PROJECT CONTACT:
Margaret King, Council Librarian, Griffith City Council
Address:
PO Box 485, Griffith 2680