The Wollondilly Heritage Centre – a volunteer run museum – has developed an exhibition, From Estonia to Thirlmere, on the working life of Estonian poultry farmers at Thirlmere, about an hour south-west of Sydney.
In the 1930s a small group of Estonians set up poultry farms near Thirlmere which survive today and are now surrounded by some 60 farms. Many of the farmers and labourers are former post-Second World War migrants from Estonia.
The cultural heritage significance of community collections will be assessed for future online exhibitions. The Centre has produced an online version of this exciting new exhibition for you to view, no matter where you live.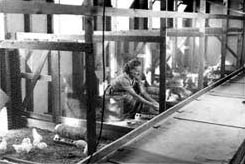 Mrs Koidu Rampe feeding young
chickens at Thirlmere in 1957.
From Estonia to Thirlmere is a Migration Heritage Centre partnership project with the Wollondilly Heritage Centre and the Powerhouse Museum's Regional Services team, supported by the Western Sydney Regional Organisation of Councils Ltd Agricultural Heritage Initiative in association with the NSW Ministry for the Arts Museums Committee.
The exhibition is based on workshops run through the Migration Heritage Centre's cultureworks project, with assistance provided by Museums and Galleries New South Wales.
The Migration Heritage Centre and the Powerhouse Museum will also presented an exhibition on New South Wales' Estonian communities in the Museum's Australian Communities Gallery in September 2006.
Photographs courtesy of The Oaks Historical Society
PROJECT CONTACT:
Doreen Lyon, Exhibitions Development Officer, Wollondilly Heritage Centre
Address:
Edward Street
The Oaks NSW 2570
Tel: 02 4681 0472
Email: history@oaksheritagecentre.com
Web: www.oaksheritagecentre.com