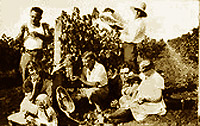 The central role played by Italians in the economic and cultural development of the Griffith area is a source of much local pride.
Griffith's first Italian settlers arrived in 1913. By 1933, one tenth of orchards were owned and managed by Italians and by 1954 at least half. After the Second World War, Griffith's Italian business interests helped create the Murrumbidgee Irrigation Area as a nationally important place for growing and processing rice, grapes and citrus and stone fruits.
Fruits Of Our Labour: The History Of Griffith's Italian Community by Dr Jennifer Cornwall was launched by the then Minister for the Arts, the Hon. Frank Sartor MP at the Griffith Italian Museum on 31 August 2007.
The illustrated book was published by the NSW Migration Heritage Centre in partnership with the Griffith City Council. It is a history of enduring significance for the people of Griffith and all students of Australian history and a milestone in a continuing community and government partnership to record and celebrate Griffith's Italian cultural heritage.
To order copies of Fruits Of Our Labour please contact Margaret King, Council Librarian, Griffith City Council, PO Box 485, Griffith 2680.