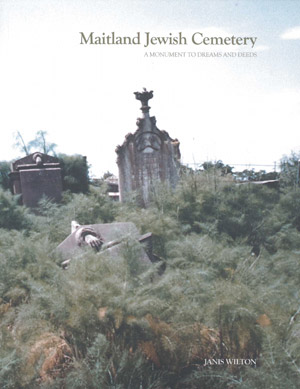 Maitland Jewish Cemetery was established in the late 1840s and ceased to function as a cemetery in the mid-1930s. This Maitland Regional Art Gallery publication, supported by the NSW Migration Heritage Centre, explores the history of the cemetery and the stories of the people buried there.
It highlights the challenges of being Jewish in a colonial frontier town, the commercial and family networks that stretched across the colony and across the oceans, the varied and complex backgrounds of community members, and the significant contributions Maitland's Jews made both to Jewish and colonial life in New South Wales.
It introduces individuals and families, is alive with images and invites contemplation about the dreams and deeds that can be imagined by visiting a cemetery.
Maitland Jewish Cemetery: A Monument To Dreams And Deeds, signed by historian Janis Wilton is $25 plus normal postage & handling. It can be purchased through the Maitland Regional Art Gallery Shop by phone 02 49349859 or via email artgallery@maitland.nsw.gov.au or in person at the shop.
Maitland Regional Art Gallery
230 High Street
Maitland NSW 2320
View Undertow – An exhibition featuring a series of paintings by Hanna Kay influenced and informed by the Maitland Jewish Cemetery.