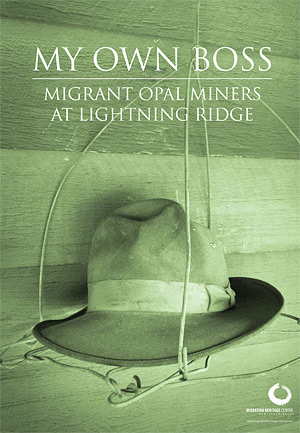 Lightning Ridge is the only place in the world where the exquisite black opal is mined in quantity and sold in the rough. People have come from around the world to find their fortunes in this outback town.
Lightning Ridge is located 728 km from Sydney and 72 km north of Walgett. The sign 'Population ?' welcomes you to town. About 5000 people live in this multicultural community and the population is supplemented by over 80,000 visitors who come mostly during the winter months to experience the lifestyle and to try their luck at 'fossicking' for opal.
Buy our souvenir booklet My Own Boss: Migrant Opal Miners At Lightning Ridge published by the NSW Migration Heritage Centre in partnership with the Lightning Ridge Historical Society and written by Barbara Moritz and Stephen Thompson.
Read the booklet online 

You can buy the booklet from the Historical Society & Heritage Cottage, Hospital Gallery, 9 Morilla St (next to Crocodile Caravan Park).  It is open 3 days a week, or by appointment, phone for details on 0419 639 120. Mailing address is PO Box 1, Lightning Ridge NSW 2834.