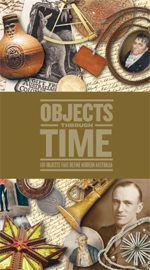 100 objects that define modern Australia
Modern Australia has a million stories that belong to the Aboriginal people who discovered and settled it, the explorers, sailors and navigators who mapped it and the waves of 19th and 20th century migrants who built it. All these people have written the story of modern Australia. What is left behind are the objects, stories and places that define who we are…
Stephen Thompson
Objects through Time is a new publication from the NSW Migration Heritage Centre traces the history of migration to this continent through a selection of 100 significant objects spanning a 60,000 year time frame. Researched and written by MHC curator Stephen Thompson, the book features objects from collections across the world that document the migration of people, technology and ideas to our shores.
It begins with the first migrants, the Aboriginal people who crossed the land bridge to Northwest Australia some 60,000 years ago and follows the story of arrivals through Indonesian outrigger canoes, a technology that enabled the Indonesian Macassans to make the journey to northern Australia, and the inscribed plate that Dirk Hartog left at Shark Bay in Western Australia in 1616.
There are objects from the early British arrivals, like the sextant and secret instructions from Captain James Cook's expedition to the South Pacific and east coast of Australia in 1770, and the 1787 draft Instructions for Governor Phillip laying the foundations of European Australia in 1788. Objects and stories belonging to the people who streamed into the Australian gold rushes, the Chinese who established market gardens and grocery stores, and the Afghan cameleers who opened the heart of the continent enabling the construction of the Overland Telegraph are also featured.
Events that shaped the 20th century are represented by objects and ephemera from the White Australia Policy, German Australian communities during the Great War, the Cowra breakout during WWII, the Snowy Hydro Electric Scheme, the Colombo Plan, the rock 'n' roll of The Easybeats, the vessel Tu Do that the Lu family used to flee Vietnam in 1975 and a special polymer banknote commemorating the 1988 Bicentennial.
The story concludes with the Friendship Stick made especially by Aboriginal artists Gavin Flick, Alana and Jai Rose for the 2000 Sydney Olympics
Book:  Objects through Time: 100 Objects that define modern Australia
Published by:  New South Wales Migration Heritage Centre, Powerhouse Museum
Purchase:  Available from powerhousemuseum.com/publications, at the Museum shop and all good bookstores, $35.00 (incl GST).
Distributed by:  NewSouth Books www.newsouthbooks.com.au