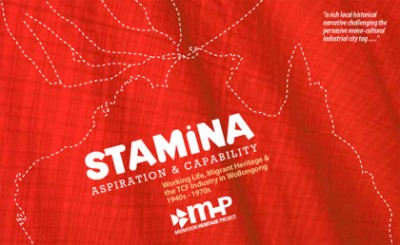 Stamina: Aspiration & Capability is a new publication about Wollongong's textile, clothing and footwear industry from the 1940s to 1970s. It was produced by the Illawarra Migration Heritage Project as part of its proposed mini-book and ebook series and supported by the Royal Australian Historical Society.
Stamina is now available as a PDF. Eva Castle commenced research for the book in 2009 with advice from the NSW Migration Heritage Centre's team through the Powerhouse Museum's Regional Services Internship Program.
The book drew from 2007 research that was funded by the NSW Migration Heritage Centre; Heritage Branch, Office of Environment and Heritage; and Wollongong City Council for the Wollongong's Migration Heritage Places Study by Louise Thom and Meredith Walker with Glynis Cummins.
GDE Error: Unable to load profile settings
Wollongong's Migration Heritage Places
The population of Wollongong more than doubled between 1947 and 1961 due to migration, yet previous heritage studies of Wollongong had not fully acknowledged migration as a significant historic theme in the City's development. The Places Project aimed to address this oversight. The themes of accommodation, work and worship were selected being the shared priorities of all migrants irrespective of where or when they settled in Wollongong and the results of the research into these themes led to an understanding of important places related to migration.
Read about The Places Project »