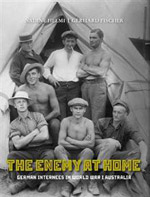 Winner 2012 National Trust Heritage Award. Shortlisted 2012 NSW Premier's Literary Award. When nearly 7,000 people with German and Austrian heritage were detained by the Australian authorities following the outbreak of World War I, Paul Dubotzki, a talented Bavarian photographer, was among them. These unlikely prisoners-of-war came from all walks of life – merchant sailors, visiting academics — and many, including beer baron Edmund Resch and acclaimed orthopaedic surgeon Dr Max Herz, had lived in Australia for decades.
In The Enemy at Home Dubotzki's rediscovered photographs and never-before-published excerpts from inmates' diaries reveal what life was like inside the Holsworthy, Berrima and Trial Bay internment camps. Dubotzki's stunning images offer a rare and surprising snapshot of the theatrical events, small businesses and sports that boosted the men's spirits.
The Enemy At Home was written by Nadine Helmi and Gerhard Fischer. The book was supported by the NSW Migration Heritage Centre. Order a copy through University of NSW Press.