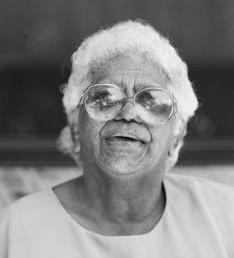 Constance Nungulla McDonald
As part of 10 Stories from Bankstown, Bankstown City Council's Community Harmony project, Olivia interviews Constance Nungulla McDonald, honorary Aboriginal elder (by proxy) for the Bankstown area. Constance was born in the Kimberley region of Western Australia and has lived in Bankstown for the last 20 years.
Firstly, how long have you lived in the Bankstown area?
Twenty years this year. I lived in Padstow and then moved to Revesby.
Where did you live prior to that?
Prior to that I was living at Orange in the central west (of New South Wales).
So did you grow up in Orange?
No. I came down from the Kimberleys in Western Australia, but I've travelled around so much in my life. The place where I grew up was the Forrest River Mission. It was the only Anglican mission in the North East Kimberley region.
When I was 24, I left the Kimberleys and I've been back there twice. In 1992 I went to see my father after 35 years. Then again in 1995, I went to see him when he was dying, and I sat there with him until he died.
Do you still speak to the people up at the Kimberleys?
When I go back, I speak my language. I told them "I practice on the gudiyar (white) people" and they were amazed. The daughter of my cousin said "Auntie, how come you still talk our language?", and I said "You never forget where you come from". It's sad that young people don't know (their heritage), they're neither black or white.
Was moving from Orange to Padstow a big change for you?
Oh no, no. You're talking to a seasoned traveller here. I have been all around Australia, so nothing overrules me or frightens me. You take people as they are, that's my philosophy. I just fit in anywhere I go and try to talk to people. I never had a problem fitting in except with the church of course. I wrote a book about being brought up on an Anglican mission. It's called "When I Grow Up". Since that book has been published, I have more respect from the church people than I have ever got.
Do you have any childhood memories that stand out?
I was born with a bone condition (chalky bones) and I couldn't walk until I was 12 but it didn't worry me any. One day a matron came to me and said, "So you are 12 years old now" and I said to myself, "Constance, you will walk today". I had my crutches there, they are not the crutches you would get today.
The senior girls (at the mission) carried me out and put me under the gum tree and they had to fetch anything I wanted. Matron brought me bread and butter with all those 'hundreds and thousands' and a cup of milk. I told these little girls to come and help me to get up. Then I fell backwards and these two kids were standing in the (mission) base screaming, "Matron come quick! Connie is standing up, she wanted to walk and she has fallen down".
Then everyone was running toward me, the matron and the village people. I said to them, "what you fellas come here for?" and they said, "you are not allowed to walk".
The flying doctor was visiting the mission that day and he came to see me, and I told him, "I am going to walk". With the girls of the dormitory by my side, I took a few steps. Later the doctor said to the crowd: "Now you have all seen Constance's effort in walking, she has taken the first steps and now it's up to you people. Everybody has to have a part in helping her to walk everyday".
So I say that my people helped me to walk. Now my little pins are getting tired. I am 69 and people with this kind of bone condition don't live past 30. It's my determination!
Any other memories from childhood?
I jumped in the river between a crocodile and a girl who was struggling to swim against the tide. If you have seen the size of a crocodile, (you will know) they are not little fiddly things. He (the crocodile) was going for that girl and I thought, "Constance, now is your chance to save that girl". So I got in the middle, and I had a mango stick, and when the crocodile came up, I jabbed him in the eye with the stick, and I told that girl to go for her life. This tribal man saw us and he came down and helped me up the bank. He said "that good thing but silly thing, you can't swim properly and you can't run up the bank" and I couldn't either. It dawned on me a couple of hours later that if that crocodile wanted to, he could have opened his mouth up and slung his tail, and those scales are as hard as steel.
What type of work have you done in your life?
What I was sent to do was to bring people together, that is, what I reckon God sent me to do, and I have been helping people all my life. My work was always social work with my people (indigenous Australians). I learnt social work when I was training for the Church Army which is an evangelist society within the framework of the Anglican Church. It is a bit like the Salvation Army. I was the first Aboriginal person to go through the Church Army.
I would help children at school. I used to go to Redfern from Padstow everyday, just to help the children with their homework, but I don't do that anymore because I can't go on public transport (because of my health).
Even in hospitals I do my church work, visiting people, talking to them. If somebody's dying I talk to the bereaved family, that was a big part of the Church Army. I visited all the big hospitals in Australia. Royal Perth was the main one.
When I was 18, I was allowed to attend the birth of little babies in the mission, and those little tyrants always decided to come from midnight on, and I would joke with the mums that the babies would disturb my beauty sleep.
What do you think of multiculturalism?
If it wasn't for migrants after the war, Australia would never be the nation that it is today. They've improved Australia and we owe a lot of things to the migrants.
What I say to people from overseas is, "do not change your culture, do not change your religion, when you do so, you have lost your identity. You will not be another Australian. You can get citizenship to make you an Australian, but you are a Muslim person, or an ethnic person".
We should not expect people to be like we are, we need to take them as they are and then the world would be a better place. For example, white people tried to change me … the Anglican Church. I thank them for guiding me and for giving me my ethical background, Christian background, but the Anglican Church will not take away who I am and what I am. I knew that the (Forrest River) Mission was dealing with all different cultures and that the white culture was different from the black culture. I was wondering, "where do I come from?" and I came to the conclusion that I am a human being first and I treat everybody as human beings.
After September 11, people were getting stuck into other people who had nothing to do with it (the terrorist attacks). Muslim people were set upon, called names. Women and children, because they were of middle-Eastern background, were being targeted. That made me very sad. Young children and teenagers (children of refugees) come over to a safe haven and to start a new life because they heard that Australia is a fair country. Fair country be blowed, it's all just poppycock. (Refugees) …. have been struggling hard and I tell them, "you keep strong, hold your head up and you be proud".
Do you think the policing in the Bankstown area has got problems?
We should be looking at some preventative measures. I think we need to train young men from each culture. They need to be taught right from wrong, social skills and about other cultures.
Sometimes it is hard to get them interested.
But you have to get them interested, have to talk about things. This is what's wrong with people today, we don't listen. If more people listen to these troubled young fellas, we would avoid some of the problems. Children can speak for themselves. (Troubled young people)… are sick and tired of these lawyer people. We need to get someone to come in, a relative or someone else they know, to talk to them.
How did you come to be the Aboriginal elder of Bankstown?
In 1993, Year of the Indigenous People, I was at a community event and a Koori woman from Bankstown asked me about being an elder. They told me that two days before, their elder had died in hospital. So I said, "OK, I will (be an elder) until you find someone". That was in 1993 and since then, I have been an elder by proxy for the Bankstown people. That week I wrote a letter to the (Wunambul) people over there where I grew up. Some old people still live there. I told them about being asked to be the elder for Bankstown and they said it was OK. So I say I am an honorary elder by proxy for the Daramar and Darug people. I can't say I am an official elder because I don't come from New South Wales.
I am an elder for my own people ( Wunambul). They gave me that honour when I was visiting my father in 1992. To be an elder you have to be approved by the elders themselves and they watch you from childhood. I have been working for my people and helping them for many years. You have to earn an eldership.
Are you happy living in this area?
I am happy. This is the first time I have ever been happy because Bankstown now is a multicultural area. I don't go out because I am frightened, I am not frightened of anything. It's my health that stops me.