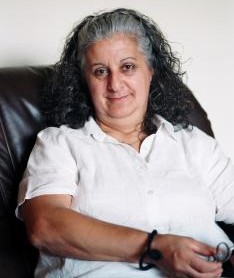 Paraskevi Pierou
As part of 10 Stories from Bankstown, Bankstown City Council's Community Harmony project, Angellina interviews Moroccan-born Paraskevi Pierou who migrated on her own from Cyprus at the age of 22. Paraskevi has been living in Bankstown for the last 23 years.
Translator: Angellina Katsidis
When did you migrate to Australia?
I migrated here from Cyprus 27 years ago. I was born in Africa, Morocco specifically. My parents had migrated there from Cyprus. At the time (some of) Africa was under French colonisation until 1957 when the United Arabic Nation Revolution took place and that was the reason why my family and I moved back to Cyprus. Then I came here, knowing nobody. I chose Australia because there was a family that was coming here and they offered to help me financially. My parents were old and were not able to, so I left for Australia.
So, you were a young single woman migrating to Australia. Did your parents approve?
My parents were always open minded, especially my mother, so it was never a problem. Plus we didn't have a choice, the situation in Cyprus was terrible. After the war of 1974 when Turkey took over half of the island, the Greek-speaking Cypriots from the north were forced to move south. Thus the influx of people meant that jobs were extremely rare and the country was in tatters.
How did you feel coming to Australia all on your own, and what were your first impressions of the Australian people?
I was excited being here on my own and not scared at all. It was like a big adventure for me. Australia was absolutely beautiful and I loved it immediately.
In terms of the people, I found them to be very kind and friendly. They helped me to learn the language better and more so than what the Greek people I knew did. If I'd speak incorrectly, they would correct me and so I made lots of friends.
Can you tell me about what work you have been doing since moving to Australia?
I first worked in the factory owned by the father of the family that helped me migrate. I worked in a factory that produced clothes and another that made butter. Later on I worked from home as a seamstress and then in take away food shops. Now I am a cashier.
In terms of study, I went to Liverpool TAFE for 18 months under a government program to help people learn a second profession. I studied to be a kitchen hand, but the course was for two years and the grant was only for 18 months, so I never got to finish it.
What sort of sacrifices did you make as a migrant?
I believe that you always have to work hard and sacrifice, so I've always been a hard worker. When I first came here, I usually worked six days a week and often seven, to save money, pay rent, and later on to support my family.
What about leisure activities? Do you have any favorites?
I very much enjoy gardening, swimming, especially at the beach, and painting. I am usually busy but I find time for these things.
Whereabouts in the city of Bankstown do you live and how long have you been living there?
We live in the Bankstown City and have been here for the past 23 years. I found it much better to where I had previously lived, in Gladesville and Ryde.
What was your initial reason for moving to the area?
The area was cheap and we could afford to buy a house, it was mainly for economic reasons.
In your time, has Australia, and particularly Bankstown, changed?
When I first came, jobs were plentiful, you could work two or three at once. Now technology has caused many of these jobs to disappear. Technology is a good thing, but for the uneducated older people of the community, it is a hard thing to adapt to when they have no idea about computers.
Also in the past, there weren't as many expectations as there are today. Life was also cheaper and you could work and save up to buy a house. Nowadays it is almost impossible for a young couple to save money to buy their first home. For us it was difficult too, but we would work hard for a few years and get by.
In Bankstown, there were even more houses before and less units and commercial buildings, but I believe the increase in population and the influx of people to the area has caused this change.
Also, 27 years ago in Bankstown, people were friendlier and easier to talk to and always around. In the past, most of the shops in the centre were owned by Greeks and now only two of these are left. Many of the friends I had before were elderly and have passed away. Also, most houses in the area are rented now, so it is hard to keep up with the people moving in and out. So, there is less interaction and friendliness between the residents of the area.
What are the positive and negative aspects of living in Bankstown?
There are more positive things, the facilities available, for example the train station, the big shopping centre, the hospital, the council, and the Greek culture, i.e. the Orthodox Church and St Euphemia's High School.
Negatives? I would say there are a few, such as crime. It is not like the past where it was safe to walk around at night, now it is more dangerous. For me Bankstown is like my village, but in my lifetime here, crime has worsened, maybe because of economic reasons. Now there is more unemployment and drugs. But it is hard to leave your home because you may end up with the same problems elsewhere.
What have you contributed to Bankstown?
I have worked hard in the community, such as in the Greek Church and the Orthodox school. In a communal way I have helped many of those in need. Such as the elderly people of the area whom I have often driven to different places and so on. I do this sort of thing whenever necessary and whenever there is a person in need, so it is not an ongoing formal thing, just something that I like to do.
Bankstown is one of the leading multicultural areas in the state. Has this affected your way of life?
I think multiculturalism is a great thing. You get to see the traditions and practices of different people. You can go to the shopping centre and get Lebanese food or clothes made in Hong Kong. I like change and trying new things, so I like multiculturalism.
Looking back on your time, if you had the choice again, would you have chosen to live somewhere else besides Bankstown?
I have always loved the sea and I like swimming. I might live there when I get older.
What does it mean to be an Australian to you?
Firstly I believe it means to be friendly. In this country you learn to be friendly and you learn how to work hard and benefit from it. There are so many opportunities and potentially a better future for people and so I prefer living here to Cyprus. Australia is the best country. Also, it is a young nation with high prospects as opposed to other countries like England which has had its reign which is over, now England has too many people and a lot of poverty. Also, the climate here is great and life in general is full.
What do you miss most about Cyprus?
I miss everything, my family, the beauty of the country and the beaches, my friends and everything else. I have managed to go back four times and I got married there. I was registered as married here but I got married in a church over there primarily because all my family was there and I wanted to marry in Cyprus.
Do you see yourself as more Greek or Australian?
I guess I fit somewhere between both. I love this country, and often when I go back to Cyprus I feel like a stranger and at times I feel the same way here. But this is a great country that accepted me, together with all of the other migrants immediately, which was a wonderful thing.