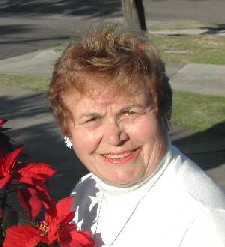 Angelina Gonano
Canterbury's People: Angelina and Arno Gonano came to Australia from Italy in 1953. Together they established a successful automotive repair business in Petersham. Now retired, Angelina exceeds in charity work and has won many awards for her beautiful garden in Beverly Hills.
Life in Cavasso Nuovo
Angelina was born in 1938 in Cavasso Nuovo, a small town nestled in the pretty green and gold hills of the Friuli region in northern Italy.
At the end of the Second World War in 1945, the economy of Italy and other European countries had been devastated. People struggled to find employment in the village and local region. Many had to travel the world seeking work.
Angelina's father, Rondello, travelled widely throughout Europe working as a builder. Being skilled and resourceful he was able to support his family in this way for many years. This meant that the Lovisa family was better off than most but it also meant he was away from home and family for many months at a time while Angelina's mother, Elisa, looked after the family and took charge of the small family farm.
Life in Cavasso Nuovo in the 1940s was regulated by the demands of the seasons. Angelina and her brother Sergio and sister Renata were caught up in this rhythm. They assisted their mother to harvest the corn which was sent to the local mill to be made into polenta, or took the milk from their cows to the local "latteria" where it was made into butter and cheese.
Throughout the year a lot of attention and effort was also put into tending the grapevines that laced the hillside of the family's plot.
The saddest day of the year for Angelina was the day the local butcher would be summoned to kill the pig. He would arrive fully equipped with knives, hooks and mincers and set about his task. The butcher in charge then made the yearly supply of salami and prosciutto, which was stored in the cool dark cellar.
Angelina and her family, including her paternal grandparents, lived in a large house that had been built by her grandfather. There were rooms for everything. Besides the usual dining, kitchen, living and bedroom areas there were special rooms for making wine, preserving all sorts of foodstuffs such as salami, vegetables and other fruits. There were also a number of exterior buildings that housed the family's animals.
School and church
At Angelina's local school, school lessons were often held outside in the wooded hills of Cavasso Nuovo where, when study was finished, the children gathered mulberry leaves on their way home to feed to the class pets – a large family of silk worms. These were sold to locals to raise money for school books.
The local Catholic nuns also played a big part in Angelina's life for they took charge of the town children's leisure activities, organising sports events, craft activities and concerts.
The nuns also initiated excursions by bus to visit the shrines of various saints in the local countryside. The children would also visit the Catholic churches in neighbouring villages where they would demonstrate their choral talents by singing at services there and at nursing homes to cheer up the old people.
Migration
In 1950, tired and frustrated by the years of travelling away from home to support his family and determined to find a better life for his children, Rondello Lovisa migrated to Australia. The following year, after he had found accommodation and employment in Sydney, Rondello sent for his son Sergio who joined him working at a concrete factory in Alexandria. By the end of 1952 Rondello felt it was time for the family to be reunited and to begin their new life in Australia, and sent for his wife and his two daughters.
Angelina, Renata and their mother boarded the Roma in Genova in February 1953, a ship from the Achilles Lauro fleet, and started their journey to Sydney. The voyage took one month and despite the lively social life on board, traces of apprehension and loneliness touched the hearts of the girls who felt sad and fearful about leaving family friends and all that was familiar to them.
Living in Surry Hills
"When we first arrived and we were living in Surry Hills we would really feel terribly homesick especially on a Sunday afternoon. We would remember our friends and life in Italy and feel trapped in the small flat. Our father would take us for a walk in Moore Park each weekend to see the trees and gardens. We complained to him that we wanted to go back to Italy to our old life … "
At first Angelina and her family lived above a shop on Cleveland St in Surry Hills and later her parents bought a small house in Botany. Living in the heart of busy Surry Hills was a completely unfamiliar experience for Angelina who missed the safety and tranquillity of her home town. The food here was different, no varieties of pasta and cuts of meat existed. The girls and their mother were very taken aback to find that olive oil was only available at the local chemist!
In order to stretch the housekeeping money further, Angelina and her mother travelled to Paddy's Market by tram each week to do the vegetable shopping. This was quite unusual as Australian householders did not usually shop at the market but at small local shops. When Angelina and her mother took the long trip home on the tram, their bags bursting with all sorts of vegetables, the Australian travellers would stare and comment making Angelina feel intensely embarrassed and at odds with her new home.
Work and social life
Soon after they arrived in Sydney Angelina found work at a factory in Annandale. She later worked at a knitting mill in Ashfield and then finally at a textile factory in Alexandria which was owned by an Italian family – the Rossis. Working there was a bit like coming home for Angelina who could speak in her native tongue and feel comfortable amongst her countryfolk.
Angelina attended English language classes at the Italo-Australian club in George St, Sydney:
"I would finish work and twice a week I would walk from home in Surry Hills to town to attend the classes. They went from 8pm to 10pm. I also studied English by correspondence course. English is a very confusing language."
The Saturday night Italian Community Dances organised by the Franciscan Fathers were the highlight of the week for Angelina, her sister and mother. These were held at the Australian Hall located opposite Mark Foys in the city. Angelina loved these dances for they were an opportunity to meet other young Italians starting a new life in Australia and for 'letting off steam' from the busy working week.
Marriage
It was at one Saturday night dance that Angelina was reacquainted with Arno Gonano, whom she had first met on the sea voyage to Australia in 1953. Arno was a qualified motor mechanic when he arrived in Australia but was unable to work at his trade because he could not speak fluent English. He worked instead in the building industry with Melocco Brothers. He later found work as a mechanic in a garage in Crystal St, Petersham. By the time Angelina and he re-met, he had saved enough money to buy a car.
"He offered to drive me home after the dance. Well, I was very impressed that he had managed to buy a car – that was until we went to leave the dance and it would not start. He had to get out and crank the car up with a hand crank because the battery was flat and he could not afford a new one."
The couple married in 1957 after they bought a small house in Ashbury on Fifth St. In the months before their wedding, Angelina and Arno, with the help of the rest of the family, completely refurbished the house. The house was overshadowed by the large water reservoir on the hill in Ashbury and backed onto Peace Park, which at that time was a large disused brick pit – a big hole in the ground.
Living in Ashbury and building the family business
Angelina and her husband felt very happy in their new home. Although they had busy working lives, they had made many good friends in the neighbourhood, which boasted a number of Italian families, a Maltese family, and an Austrian family among the many Australian-born couples and their children. Ashbury in the 1950s and early 1960s was a very warm and friendly place to live.
In 1960, Arno had the opportunity to buy the garage business in Petersham from his boss. He felt more confident with the English language and was eager to take up such an opportunity. Arno and Angelina took out a loan and started out in business life.
Angelina continued to work at the textile factory in Alexandria and at the end of work each day she helped out with the books and administration of the business. This arduous double shift went on for months by which time Angelina was ready to leave the factory.
The experience of writing cheques and invoices and dealing with the management of the business refined her understanding of English. Arno was in great demand for his trade skills. The business prospered and provided the family with a comfortable, if busy, life for 25 years.
Children and the first car
While they lived at the Fifth St house in Ashbury, Angelina and Arno's children were born at Canterbury Hospital. Their daughter was born in 1963 and by the time their son was born in 1965, they had bought their first 'proper' car. The beautiful burgundy and white trimmed Fiat 2300 was a far cry from the rough and ready ute used for business purposes. The Fiat was exclusively the 'weekend car' used for leisurely drives to the Fogolar Club in Lansvale. The club was established in 1965 by the Italians from the Friuli region and provided a place where they would gather to eat, drink and socialise on the weekends. It was also the centre of various cultural activities such as folk dancing classes, choir singing, as well as bocce and tennis competitions.
Raising the children
Their needs of the growing family prompted Angelina and Arno to look for a larger house in the newly established Beverly Hills area. They moved there in 1967 and it was here that their children grew up attending Regina Coeli Catholic School and later De La Salle Boys and St Ursula Girls High Schools in Kingsgrove.
Angelina took great care to ensure that her children received the best of both Italian and Australian cultures. She took care to speak to them in Italian when they were young, pretending that she could not speak English well to promote their fluency in Italian. While the children were encouraged to learn about their Italian background and the folk traditions of Friuli, they were also encouraged to embrace Australian culture, readily mixing with other children in the area and at school.
Taking part in community life
Initially Angelina found living in Beverly Hills a very difficult experience. Unlike Ashbury, there were few migrants living in the area in the late 1960s and she found her Australian-born neighbours to be quite unwelcoming at first.
This of course has changed over the years as Angelina became involved in community activities such as her work visiting local nursing home residents or volunteering at the Canterbury Hospital kiosk. She is a keen gardener and has worked hard to establish a delightful garden, in many ways reminiscent of the brightly flowered terraced gardens in Cavasso Nuovo.
The garden has received a number of awards in the annual Canterbury City Council Gardening Competition. More recently she entered the Gardens Club of Australia National Competition where she came first in the category of home gardens up to 200 square metres for south-west Sydney. Angelina's garden features on page 85 of the publication Australia's Extraordinary Gardeners and Gardens.
Angelina is a committed member of the local church choir and regularly assists in decorating the church for the annual round of religious events. She recently crafted a set of vestments for the priest with an exquisite appliqué Waratah and Stella Alpina motif. The design has a special significance for Angelina as it symbolises the shared place in her heart for the country of her birth and her adopted country.
The work of establishing a home in a new country is long and hard. For many of the 50 years she has lived in Sydney, of which 45 were spent making a home in the Canterbury area, Angelina felt the shadow of longing for the home of her birth. She visited Cavasso Nuovo several times with her family and found it very hard to leave her old family and friends again. It was not until her last visit, taken on her own, that she finally realised in her heart that her home is here in Canterbury with her family.
"I am proud of my background and my people but I love this country. It has given us the opportunities, we have worked hard and we have achieved a lot … and I am thankful for it."