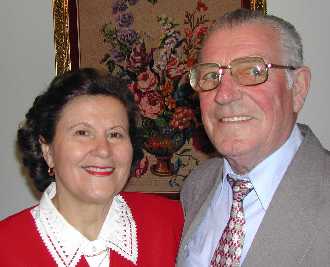 Anna & Giovanni Tomc
Canterbury's People: Anna and Giovanni Tomc were born in what is now Bosnia, formerly part of Yugoslavia. They arrived in Melbourne in 1959 as refugees. Anna and Giovanni have established an extremely happy life in Australia and particularly in Lakemba, where they have raised their two children.
Anna's early life in Bosnia (the former Yugoslavia)
The small village of Stivor where Anna and Giovanni were born was a multicultural town with only 68 houses. Like Anna's grandparents who came to Stivor in 1880, many of the village folk were of Italian decent. Most of the families in the village made wine, including Anna's father who she described as 'a loveable man'. He was a bricklayer and Anna's mother worked in the home caring for Anna, her two brothers and one sister.
"I had a very happy childhood, all nationalities of children played together."
Due to the war and high school's distance from the village, Anna only attended school aged 10-14 years.
Entertainment for the family involved large family gatherings where Anna would listen with 'open ears' to her grandmother's stories, just as her grandchildren now listen to her stories of life in Bosnia and beyond.
Anna was a young child during the Second World War and recalls her mother ushering the children under the table while the bombs were being dropped. Giovanni is six years older, and he witnessed the impact of the war on the people:
"There were three armies in Bosnia. Some days all three army patrols passed through our village; the Germans who occupied Yugoslavia during World War II, the Serbian Army and the Croatian Army. It was a time of great struggle for many and most families had to give food to the army personnel and were left with very little for themselves."
Marriage to Giovanni
After meeting at a church function, Anna and Giovanni spent two years courting and were married in 1957. Anna went to live with Giovanni's family and helped on the farm while he worked in Novisad, a larger town some distance away from Stivor. Anna missed Giovanni enormously and looked forward to her occasional visits to Novisad.
The post World War II years in the former Yugoslavia were marked by civil unrest and social and economic hardship. Many people dreamed of a better life in the West. It was a dream that Giovanni shared and in the same year the couple were married, he made a surprise visit to Anna, telling her to pack a small bag and make a quick visit to her family for they were going away. Unbeknown to Anna, they were not to return to Stivor until many years later in 1973. Anna recalls:
"I quickly made a visit to my mother, she was sick in bed, but she blessed me and then I returned to pack two pieces of clothing, a statue of Our Lady that was given to me on my wedding day, a bible and rosary."
At this stage Anna did not realise they were leaving Yugoslavia for good.
"I didn't get to say goodbye to my father, he was away at work … I feel sad about that … he died on a building site in 1964 and I never saw him again."
Escaping Yugoslavia
Although Anna and Giovanni can now look back on the months after their departure from Bosnia and before their arrival in Australia as an 'adventure', at the time it was quite dangerous and sometimes frightening. Their escape to Italy involved a four-day journey by train, bus and foot. They first caught a train to Zagreb where they met Giovanni's cousins who also planned to escape with him.
"They were not happy to discover that I was going to be escaping with them. They were worried that I wouldn't be strong enough and also that they were not taking their girlfriends as well … [but] at times I was stronger than them."
The group took great care, as they were aware that if they were caught escaping they would be jailed. After two days travelling by train, bus and avoiding patrols checking passenger identity cards, they went by foot into the woods and walked for a night and a day.
"We walked all through the night. It was cold and we made our journey longer because we misread the map, we also didn't have any food or water. I just prayed a lot and in the morning we saw a building that looked like a castle, and later realised that it was the check point at the [Italian] border."
Anna and Giovanni spent the day in the bush until it was dark and then finally the group summoned the courage to show themselves and illegally pass through the checkpoint.
"When we finally crossed the border we were all hugging each other and were so excited."
The Italian police picked them up and they were taken to Trieste refugee camp where they stayed for six months. They were assessed by Interpol and spent the next 18 months in various camps around Italy. Linda, their daughter, was born in 1958 in the refugee camp.
Arriving in Australia
Anna and Giovanni didn't know anything about Australia before arriving in Melbourne in 1959. Giovanni decided which country they would go to:
"I chose Australia because it was a young country and it was far enough away from the Balkans where there is always potential for war and civil unrest."
Anna was relieved when the family were finally on board the boat bound for Australia:
"I was on the deck of the boat 'Australia' that left Naples and I was holding Linda up. A bird was flying with us and I was full of hope about starting a new life, but also sad that I might never see my family again."
After the boat docked in Melbourne, Tomcs took the overnight train to Bonegilla Migrant Camp near Albury-Wodonga. They didn't have many clothes and the weather was quite cold. They were very grateful that on arrival at the camp they were given clean sheets and blankets and as much food to eat as they wanted.
Alone at Bonegilla Camp
Not long after settling into Bonegilla, Giovanni was offered a job in a glass factory in Alexandria (Sydney) and to Anna's disappointment, she had to stay in the camp with Linda. Government policy at the time required wives and children to stay in the camp until the men established themselves in their new work.
"They took the men off in a big open truck and I was left in the camp without knowing anyone. I ran and ran after the truck with the baby in my arms until I collapsed and I laid on the ground all day until it was getting late."
Anna's natural resourcefulness helped her quickly adjust to the routines of the camp. One of her biggest challenges was dealing with her baby alone. At one stage she found an old pram that was missing a wheel. She cleaned it up and felt quite liberated at not having to carry Linda around on her hip all the time.
Anna didn't have any money and the only English she spoke was "how do you do", but through observation she became aware of certain events and patterns. This included if someone's name was called over the megaphone it meant it was time to leave the camp to be reunited with your husband.
"I was so excited the day my name was called out over the megaphone … the only thing is that I didn't realise how long it would take me to reach Sydney and I wasn't prepared for such a long journey by bus and then train. I didn't have any food or water with me, and Linda was screaming because she was so hungry. I asked if anyone spoke either Italian, Ukrainian or Yugoslav. Finally I found someone who spoke Italian and they gave us food and blankets."
Reunited in Sydney
Once in Sydney, Anna and Linda were taken to Villawood Hostel and Anna remembered being terrified. There was "lots of bush, many army humpies and not a soul around". It seemed a long time before she saw Giovanni:
"When we finally were together, we embraced and cried and were so happy from then on."
The family stayed for several months in Villawood before moving to a boarding house in Surry Hills to be closer to Giovanni's work. The couple didn't have much money as they had to pay Villawood Hostel back for their accommodation.
Anna found work in a restaurant washing dishes at night. She worked very long hours, but they managed to save a little money and soon were able to look for alternative accommodation. In 1961 they bought a house in Sydenham together with Anna's brother who had also come to Australia.
Moving to the Canterbury area
Anna and Giovanni's second child John was born in 1964. In 1966 Anna and Giovanni decided to buy a house in Lakemba. They were familiar with the area as they occasionally visited a friend there. They felt that the area was affordable and had a lot to offer a young family. Giovanni and Anna's brother worked hard to extend the small federation house so the whole of Anna's family could live comfortably there. By 1969 Anna's sister and her five children, as well as Anna's mother, had immigrated, and together with the Tomc family and Anna's brother they all lived in the house together for a number of years. Anna was so happy to have all of her family together again.
In 1973, Anna and Giovanni and their children visited Stivor for the first time since their migration to Australia. It was Easter time and the four greatly enjoyed being with their family over the festive season. Five years later they sponsored Giovanni's parents for a six month holiday in Australia.
Over the following years Anna, Giovanni and the children went about firmly establishing themselves both personally and financially. Giovanni left his factory position and moved into the building industry, Anna went to work day shift at Sunbeam and both Linda and John went to Belmore Public School.
Linda's secondary schooling was at Canterbury High School and John's at Belmore North High School. Anna's English improved dramatically when both children were at school. They helped Anna and Giovanni with their English and the children were taught Croatian by their parents and grandparents. John also attended Saturday school to learn Croatian during his high school years.
The Tomc family returned to Bosnia in 1986 when John finished university, this time to spend Christmas there.
"It was strange going back to Sarajevo, everything had changed … the people had become very modern, the products had changed and there was a new currency … we very much felt that Australia was our home."
Changes in the Canterbury Area
Over the 36 years they have lived in Lakemba, Anna and Giovanni have seen significant movements of people in and out of the area and other changes:
"When we first moved into our street there was only three or four Greek or Italian people living there, the rest were Australians. Today there are only three Australians and the rest are all new Australians … the area has grown so much … kids could play cricket on the road because the traffic was not as busy as it is today and there are many more units built in the area now."
Giovanni has been a member of the Canterbury League Club for over 30 years and has received a gold medal for his membership. He has seen dramatic changes to the Club over those years.
"It was like a little shed compared to what it is now, it was made of wood."
The family did not own a car for many years, so the focus of their social and recreational lives tended to be in the Canterbury area. They went to church at St. Joseph's Church in Belmore and the children attended scripture classes there when they were young.
Over the last 15 years Anna has held scripture classes in local schools. She started as an assistant and after a while took the classes herself. Anna recalled that in her early years of teaching scripture the class numbers were around 21 per class whereas today they are much smaller.
Today
After high school Linda studied nursing and John went to University. Both Anna and Giovanni are very proud of their children's achievements, which include producing 'beautiful' grandchildren for them.
Anna feels very grateful to have met such wonderful people in her community, those within the church, her classes and her neighbours. Giovanni summed up living in the area by saying:
"I don't want a house, I want a home. We know many of the people in the street and wave to them. We love the multicultural nature of the area, old and young people, we say hello to them all."