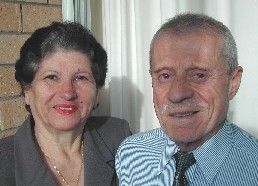 Hanna Diab
Canterbury's People: Hanna Diab and his wife Thereze migrated to Australia from Lebanon in 1986. Hanna is an active member of the local community and has received several certificates for his contribution to the Arabic and senior groups in Riverwood.
Growing up in Lebanon
Hanna Diab was born in Ainebel, a small rural village in the south of Lebanon in 1933. He was one of three children and his parents earned their living from the land as farmers. All the children went to a private Catholic school in the village, with Hanna leaving at 12 years of age to work with his parents on the land.
Most of the people in Hanna's village were farmers but over the years the village has undergone significant changes with most of the farms no longer being worked and up to 60% of the town's population migrating to either America, Australia or to the capital, Beirut.
When he was 19 years of age, Hanna married a local girl, Thereze, and they lived with Hanna's family.
Working in Kuwait
In 1953, one year after he married and around the time his first child was born, Hanna decided to take a position in Kuwait as a public works builder.
During this time in Lebanon, it was common for young men to seek work opportunities in neighbouring countries such as Kuwait:
"The country was very rich due to oil and it needed workers. Also it was only a two hour plane trip or twenty hour drive by car from Lebanon and in particular my village."
During his 25 years of working in Kuwait, he kept himself very busy. For eight years, after a hard day working on building sites, he attended night school to study for his high school certificate. Every so often he came home to visit his growing family.
"Although I loved coming home to my family, it was also very difficult to leave them again as I was alone in Kuwait."
Moving to Beirut
While her husband was living and working in Kuwait, Thereze and the four children continued to live in Ainebel with Hanna's parents and in 1972, Thereze and her children moved to Beirut to be close to her eldest son who had joined military college there.
In 1975 civil war had began in Lebanon and Hanna was very concerned about his family living in Beirut as the city suffered regular bomb attacks. In 1980, Hanna acted on these concerns and decided to leave Kuwait and return to live with his family. He returned to a city torn and battered by years of war:
"The bombings became just a part of normal daily life."
In 1982 Hanna returned to Kuwait to visit some good friends there. During this visit Beirut was again badly bombed and the airport was closed down for six months. Hanna, unable to return to Beirut, took up his old job in Kuwait until he was able to return home.
Re-settlement in Beirut was difficult for Hanna because the bombings were still occurring and work was hard to find. He opened up a shop selling aluminium accessories in the city, but the business did not do well. After losing a considerable amount of money, Hanna started to seriously consider his brother's offer of sponsorship to Australia.
Settling in Australia
In the early months of 1986, his brother applied to the Australian Embassy for a permanent visa for Hanna and Thereze, guaranteeing that they could stay with him for at least one year after arriving. Within three months of this application they had received a visa for permanent residency in Australia.
They had hoped that their four children and families could join them, but this was not to happen. All children were over 18 years old and married and therefore considered fully independent, so they were not eligible to be covered under the same application. It was hard for the Diabs to leave their family behind but they hoped that one day the family would be reunited in Australia.
Hanna and Thereze arrived in Sydney on 7th May 1986 and went to live with Hanna's brother in Mt. Druitt. Keen to get settled with work and a permanent place to live, the couple only stayed with the brother for a short period of time before finding a flat in Punchbowl. They moved to the Canterbury municipality because it was close to the city and there were many other Lebanese people living in the area, and to Hanna's surprise even some from his village. These friends gave him considerable help and advice with work and settling into the area. There were also many shops that sold Lebanese produce and products, so it was "just like living in Lebanon".
Being close to the city, it was also not long before Hanna secured a casual position with the Navy Supply Centre in Zetland in 1986. Although he was not fluent in spoken English, his foreman recognised him as a good, responsible worker and gave him considerable assistance in attaining a license to drive a forklift. He also supported Hanna in getting citizenship, which meant he could take up a permanent position with the organisation.
Within two years Hanna was competently handling the biggest forklift in the warehouse. Aged 53, Hanna worked extremely hard in the warehouse.
"It is my nature to work hard and I was lucky to find work at this age. I only worked … I got up around 4.45am in the morning and took the train to Central and then a bus to Zetland … by … 7.30pm … I was ready for bed and didn't have much time at all for social activities … it was the best job that I have had in my life."
Hanna took a redundancy package at 63 years of age when the Navy Supply Centre moved to Moorebank in 1996.
Hanna and Thereze lived in the same house in Punchbowl for a period of four years before moving to a Department of Housing unit in Riverwood in 1990. They again felt very much at home in Riverwood as there were around 20 other Lebanese families living in the same group of units.
Retirement and community work
When Hanna retired, he started to become actively involved in the community, in fact since retiring, he has had little spare time. He is very involved with the Riverwood Community Centre, in particular the Arabic group that meets there on a weekly basis. He regularly assists people with doctor's appointments and business and official matters. Hanna also helps with the organisation and the running of a stall at the Riverwood Festival to raise money for the Riverwood Arabic Association for which he is Treasurer. He is also Secretary for the Ainebel Charitable Association, a group that represents the village where Hanna comes from.
Since retiring, Hanna has made good use of the facilities in Canterbury City. He is a member of the Riverwood Library which he visits every day, except Sundays, to read Arabic newspapers and magazines, as well as the Daily Telegraph. Since 1997 he has used the Riverwood Community Centre's facilities and courses and he attends St. Charbel Church in Punchbowl. Thereze attends St. Joseph's Church in Riverwood. Hanna shops locally for his daily food and grocery needs.
Both Hanna and Thereze returned to Lebanon in 1997 to visit their four children and thirteen grandchildren. Over the years they have tried many times to sponsor some of their children to Australia but have not been successful with the immigration authorities.
They are considering moving back to Lebanon in the next few years as they feel that given their age and health, it may be best to be with their family in Lebanon where they have more support. They also feel torn about being so far from their children and grandchildren. However, leaving their home in Riverwood and the community they have developed over the years will not be an easy decision for them.
Hanna is extremely proud of his achievements in his community work. He has received several different certificates for his commitment to helping others, including a Certificate of Recognition for 'Valuable Contribution to the Arabic Community in Riverwood' from the Riverwood Australian Arabic Association and a Seniors Achievement Award for 'Outstanding Work with the Community' from Canterbury City Council. This formal recognition of his work is very important to Hanna. He has sent copies of the certificates to his family in Lebanon and the local newspaper in Ainebel wrote an article about him recently.
Mr. Diab reflected on his years in Australia, saying, "we have been very happy here in Australia and that we have been able to live peacefully and happily with each other". He added, "particularly living in the Canterbury area, it is like we are in our homeland".