Contributed by Dr Rosemary Suliman, College of Arts, Education and Social Sciences School of Humanities and Languages Bankstown Campus, University of Western Sydney. This story is based on an interview with a UWS student. The names have been changed, for confidentiality.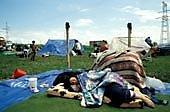 Place of Birth: Iraq
Cultural background: Iraqi


Hanan is a student of medical science at the University of Western Sydney. She was born in Iraq, where she began her education. She remembers her primary, intermediate and secondary education fondly, despite the harsh economic conditions that saw her large family endure blackouts, cramped conditions and unemployment. In 2000, she and her family moved to Jordan where, pregnant and without official papers, Hanan applied for a refugee visa. She and her husband came to Australia as refugees, and Hanan studied English and gained her HSC in order to pursue her tertiary education. She is now in her final undergraduate year
I was always happy
For Hanan, memories of her early education in Iraq are an ongoing source of joy:
I love those memories, she says, the best days of my life are at school.
While she admits that she still struggles with English at times, there's a sense that the slip in tense here – the best days of my life are at school – is fitting. The memories she so values are still with her.
Hanan excelled at school. She says,
I always came top of my class.
And perhaps that accounts for the pleasure she takes in remembering her early education. But perhaps too, it was also the sense that school was a place of constancy in her life at a time when so much around her was shifting:
I moved between four to five schools I went to Baghdad then went to (indecipherable) then back to Baghdad. We moved a lot.
And, as is so often the case, she enjoyed her education because of her educators:
The teachers were so nice, she says. I was always happy.
For Hanan, happiness seems to be tied to a sense of productivity, of achievement and contribution. This is clear in her goal-oriented outlook, which emerges at a number of stages throughout the interview. And it's evident in the clarity with which she recalls the emergence of her ambition:
Medicine. I wanted to become a doctor.
Which was guided partly by pragmatic concerns:
In Iraq doctors have the best jobs.
And partly by altruism:
They help people.
But there's also a strong sense that her dream of being a doctor was a direct result of the praise she earned with her early scholastic achievements:
When someone is smart at school everybody keeps saying you're going to be a doctor.
Hanan's love of learning and her scholastic success are still with her, then, as much in her continued pursuit of a medical career as in the fondness with which she recalls her early education in Iraq.
"But then what happened? Things changed?"
Hanan says:
In intermediate school, students change. They go through their teens.
But for Hanan and her peers, this already unstable period was marked by more than just personal, developmental change:
During intermediate school the situation in Iraq became harder and my own situation at home became harder… My circumstances at home affected me also. I was staying with my uncle his wife and grandmother. My father was unemployed. We were what you can call poor… It was very difficult. There were no jobs and all the sanctions. We had electricity blackouts for hours and hours. It was very hard it affected us a lot… I had my uncle, aunty and grandmother in the house so it was so hard. We were ten people under one roof and most of us didn't work.
Hanan endured these oppressive circumstances and persevered in her scholastic endeavours, at which she continued to excel:
I was coming first in my class.
And, as would continue to be her way, she worked hard and strove for perfection:
When I reached sixth grade, I was thinking of redoing the year so I get a better average.
Continual blackouts, a crowded, impoverished home with, one imagines, little room or time to study. Already, she's first in her class. Still she considers repeating, rather than accepting a result short of perfect. The same quality of self-determination emerges in her recollections of secondary school, and the way she thrived under conditions that required self-motivation for academic achievement:
We had no set exam dates… so it was very messy and unorganised but I still loved it. They used to give us textbooks and that's it; you read by yourself. I like that.
I love the memories I had there, she says.
Nevertheless, life remained difficult for Hanan and her family as long as they stayed in Iraq, and she feared that the sacrifices both she and her family had made for her education would be wasted:
We (had) no future in Iraq. If I was to become a doctor, there (would have been) no opportunities afterwards.
So, in 2000, she left her homeland and travelled to Jordan, trading in the life she knew for an uncertain future in an unfamiliar country.
Fourteen People in one small space… like refugees
For five years we kept saying we want to leave, then we left and came to Jordan.
In Jordan, life did not immediately improve:
We lived in two rooms with my in-laws, too. We were fourteen people living that one small space… like refugees.
We didn't have beds.
Nor was she bound to her new home in any secure way:
We… stayed there for almost 1 year without official papers, she says.
And, though her life in Jordan must have been furnished with a feeling of placelessness, Hanan found warmth there. She laughs when she speaks of life with her in-laws.
And she found work:
I was working at a retirement home for elderly people.
In this, it seems, Hanan was able to regain the sense of productivity and contribution she seems to value so highly, and to find satisfaction in devoting herself to the care of others despite, or perhaps because of, her own precarious situation:
I gave birth to my son (and) I went back to work.
Apart from the necessity of earning a living, her pride in the way she devoted herself to the work is obvious. But in Jordan, she was without any opportunity to pursue her career, or to renew in any meaningful way the education that she hoped would lead to it:
We applied for a refugee visa and came to Australia as refugees.
It's hard, but I will try.
Hanan and her husband didn't stay in a refugee centre when they arrived in Australia. Her brother-in-law put them up. Six months later, they found an apartment and Hanan began to take steps towards university admission:
I went and learned English so I (could) complete my education here because I had forgotten most of it.
I have two children.
I came when I was 25 or 26 years old
but since I was little I loved school, so I did some research…
She found that she could complete her studies in Australia. So, despite the difficulties she faced, she did:
I enrolled in a catholic school I went for one semester but it was very hard … I had (a high school certificate) from Iraq but I wanted one here so I went to TAFE…  I did year 11 and 12 in one year at night-time after my husband would come home.
Hanan gained her HSC, showing the same quality of relentless perfectionism, and defiance of circumstance that had lead her to consider repeating the sixth grade.
I did it in one year and I took hard subjects, she says, but remains unsatisfied with her final mark.
And if she expects a lot of herself, perhaps that's because of the wider significance of her achievement:
My husband has a degree but, from my family… I was the first one to get to uni. I am the only girl amongst the family…  because, at the age of 17 or 18 years, girls usually get married and that's it.
Hanan's determination to gain her tertiary degree is long held, but she also gained inspiration from others who had gone before her:
It was my dream to go to uni but I forgot about it when I left home and I had kids… when I came here I heard stories people who continued and then I (did) my first year.
And, in her final undergraduate year of a medical science degree, she still wants to be a doctor. This semester, she will take on five subjects.
"So now you're studying medical science. Do you think you will complete that degree then do medicine?
That's my dream, she says.
It's hard, but I will try.
I want to be someone. I want to do something.
Hanan's's faith in her own ability to succeed is not blind. Her optimism is tempered by a hard-won sense of the difficulties involved in any undertaking:
In Iraq I faced problems but life had to go on. In Jordan, it's true, we were very poor, but you had to go on. Life doesn't stop… After I came here I wanted to keep going despite my poor English and despite having kids… I wanted to do more.
She has regrets:
I wanted a different path, but my circumstances forced me to take this road. I would've wished to finish my studies then get married, then have children… I didn't really have a choice.
But, again, her words suggest that she possesses a strength of will that will not be overmatched by circumstance:
I don't want to be a stay at home mom, she says,
I want to be someone.
I want to do something.
And while her bond with her family has meant sacrifice, it has also been an ongoing source of strength and support:
When I was younger, my father and mother were the people who supported me the most and (now) my husband is the one who supports me.
Her husband's family help care for the children so Hanan can study.
Thank God.
She doesn't simply receive support, though. Hanan finds time to pass on the support that has been leant to her:
My sister in law… she is younger… she is enrolled now. I encourage her a lot.
She still faces obstacles. When asked about them, she says her language skills are her chief difficulty. But in the way she says it, she gives the impression that she demands more of herself simply because there is more to be demanded:
I have a problem with languages…. I don't know how to use two or three. I use them all at once… (I)t has to be perfect.
Ultimately, Hanan's path to academic achievement was driven not only by her abiding self-determination, but also by her considerable capacity to accept the cost of pursuing her ambitions:
If I want something, she says, I have to sacrifice
"So you fought"?
You have to. If you really want something you have to.
Read other Success Stories of Refugee students at The University of Western Sydney