Contributed by Dr Rosemary Suliman, College of Arts, Education and Social Sciences School of Humanities and Languages Bankstown Campus, University of Western Sydney. This story is based on an interview with a UWS student. The names have been changed, for confidentiality.
Place of Birth: Iraq
Cultural background: Iraqi


My country is one of fear…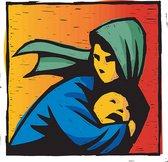 In 2002, Kareem and his wife Maryam left Iraq, where they faced religious persecution, harsh economic and employment conditions, and the debilitating legacy of war. They wrapped their infant son in a blanket, loaded their belongings into a rented car, and headed for the Syrian border. They spent two difficult years in Syria before coming to Australia as refugees. Kareem is currently finishing a translation and interpreting degree at the University of Western Sydney.
Iraq
I come from a region of conflicts and struggles… My country is one of fear.
For Maryam and Kareem, life in Iraq was beyond bearing:
Life was always difficult in Iraq. (There were) daily problems and wars, and we were a minority in Iraq. They did not wish us to be part of the infrastructure of the country, as administrators, or teachers, or people who wanted to improve their existence.
We did not have freedom of choice, Kareem says.
Despite this, they did all they could to improve their conditions and play a part in the life of the nation. Kareem served in the Iraqi army. He held a government job and studied at night, earning his degree in English language at the University of Baghdad.
It was not easy, he says.
And this must be a dramatic understatement, given the conditions in which they were living, especially the disposition of the government towards religious minorities.
Says Maryam, We could not achieve what we aimed at, especially (at) University. (It is) very difficult to build a life from zero.
And yet they did. In 2002, Maryam gave birth to their son, whose presence in their lives seems to have shaped their experiences of all things. The complications they had to deal with at the Iraqi border, their struggle to find adequate housing in Syria, their difficulties adjusting to the Australian cultural landscape, are all related through the prism of their concerns for their son. And, given the timing of their departure, it seems that it was for his sake, too, that they left Iraq and began their lives as refugees.
Trouble at the Border
I begged him to let us go
One of the first problems we faced, says Kareem, was at the border.
It was freezing cold.
We did not have anything that could provide the basic needs for our child.
I was worried about the child, Maryam says.
The (border guard) did not notice the boy, because I kept him totally wrapped in a blanket, with just his nose out for breathing.
I begged him to let us go so the child (would) not get sick.
He refused and started searching.
But, in many respects, they were lucky:
We left the Iraqi borders, says Kareem.
We had permission.
We had the right documents to leave.
And though it took Kareem four trips to Baghdad to get this permission, it could have been worse:
My brother, he says, was kept at the border for four weeks because there was a similarity between his name and that of someone else, who was not allowed to leave Iraq.
The next day, they entered Syria.
Syria
Iraqi oil is the best
Maryam and Kareem found it difficult to adjust to life in Syria, and to accept all that they had left behind:
In Syria… we rented a house.
The house was in an area like a cemetery, Kareem says, a very poor and horrible area… (but) there was nothing else.
Maryam in particular had trouble with their temporary accommodation:
When I saw the house, tears poured out of my eyes… I (had) never lived in a house like (that). Our house in Iraq was a beautiful house… (This) house was just walls and the floor.
It was very cold.
We had blankets and carpets that we brought with us (but) the room was so cold, the baby did not come out from the blankets. If we had to change him, my husband held the blankets like a tent and I changed him under the blankets. I had to wash the clothes by hand and the water was like ice.
The twenty days we spent in this house, she says, were like hell.
There was no washing machine or dryer. It was like hell.
But if Maryam's analogy seems somewhat hyperbolic, it also speaks to her deeper anxieties. About her son's welfare:
I went out to find a house because I have a child… (I wanted) to make sure our son would have a healthy environment.
And the sense that she had entered a strange and hostile environment:
The Syrians took advantage of us, as strangers. They take advantage of people and do not treat them well.
Maryam and Kareem tell a story that reinforces this sense of displacement, of having entered an unfamiliar land that was incompatible with all they had known:
Maryam: We (had) brought a heater with us from Iraq that worked with Iraqi oil. Iraqi oil is the best. When you use it, it does not cause smoke.
Kareem: I went to get gas for the heater and did not imagine it would be different from what we had in Iraq. I… went to the nearest petrol station and they did not have any. (I) went to the next, and (the) next. I went to six different petrol stations and, (in) the end, I found one. I went home and lit the heater.
After a while, I noticed
that the atmosphere
in the house
was not right.
Maryam: My eyes got itchy and watered a lot.
My neighbour… said to take care because the baby may suffocate.
People in Syria use a different type of oil.
But they soon found a sense of place and some comfort in a more agreeable environment:
There was a flat next to (a relative), says Kareem, a clean one. We rented it.
Maryam elaborates:
The owner of this unit was a Palestinian who left his country in 1948. I told them that I (had) a baby.  The wife had a child of similar age.  She gave us the unit… and she gave us extra furniture because she saw that we were desperate.
The unit was safe. We stayed there until the time we left Syria, because the people who owned the unit were good.  My life in Syria was made good, because of the Palestinian family. They all cried when we left Syria. They were like family to us and my son grew with them. This made life easier for us.
We stayed there for two years, Kareem says.
But, outside the apartment, life in Syria remained difficult, especially for Kareem:
I worked at a petrol station…  for a week or two and then stopped because they treated us very badly. I was always scared that the money would not add up correctly.
I had a cousin who worked as a distributor.  I worked with him as a  "carrier". I carried boxes of juice drinks on my back… about 15 kilos.
Someone throws the box,
I have to catch it
and put it on my back.
I worked for what is the equivalent of $3.00 a day.
(I) worked all day, and could not stop at all.
The owner found out that I was an English teacher in Iraq, so he put me to work in the office and asked me to help his son with English.
I did carry things sometimes, but not all day.
One day there was a shortage of three boxes of juice.  I do not know who took them.  I was held responsible and he did not pay me my wages for the day.
I then stopped working there.
I worked for a few days as a peddler, selling goods from a bag.
They decided to come to Australia, but this too proved difficult:
We had huge problems, Maryam says, because of the names.
In Iraq, official papers must carry the name of the relevant person's paternal line, going back four generations:
There is no one surname for the family, Maryam explains.
This made filling out the Australian paperwork problematic. But, again, they managed to solve their problem with comparative ease:
A friend took my case to a member of parliament in Australia and solved the problem for me with the immigration department.
And so they came to Australia:
All my family… are here, Maryam says, my mother,
father,
brother,
sisters.
Everyone is now here.
Australia
One feels unsettled
For all they went through coming to Australia, Kareem, and in particular Maryam, found they were wholly unprepared for the culture in which they had elected to immerse themselves:
One feels unsettled, Kareem says. Not financially, or physically, but psychologically and socially… especially that Australia is multicultural. Daily, you meet different people (with) different values.
We grew up with certain values, Maryam says:
In our religion… we do not allow our children to marry outside the religion. Here they… marry from different backgrounds and religions. They live with (a) person and do not marry. We ask the parents, "Why do you allow this?" and they say "We have no alternative. They will do what they want in spite of us." Parents should bring their children up the right way and children should not do anything without their parents' approval.
I try to put the fear
of God into my children
and show them
what is wrong
and right.
The school teaches one thing and the home another thing.  We cannot bring up our children the way we want.  A lot of people are losing their children.  As a community, a lot of boys and girls go the wrong way.  They understand freedom the wrong way.
To a lot (of people), freedom means allowing children to live their lives at the expense
of losing their values and morals.
Kareem is more circumspect:
The biggest problem we have is this social, moral difference between what we hold and what society here approves of, (a) conflict of values.
We chose to come here, he says, and one has to accept, to try to adapt.
Nevertheless, the conflicts of the past affect him in ways the cultural displacement of the present does not:
We did not come from Sweden or Norway, he says, (or) live a luxurious life… As a new immigrant I had some psychological problems and bad memories from the past.
It's a burden that has had a palpable affect on his tertiary education:
I joined the course… Translating and Interpreting at UWS… but found great difficulty… I come from a region of conflicts and struggles… I am in one place, my thoughts are in one place and the course is in another.
Here too, Kareem's concerns seem to revolve around his children:
I feel that I am not doing the right thing by my family, that I am not contributing enough.
When he is asked his strongest motivation for continuing his studies, he says:
To get a certificate, a degree, a good job, for my children.
For her part, Maryam supports Kareem's university study by ensuring that he is able to pursue it without distraction:
He has no commitments at home.  I do not want him to worry about home and the children, taking them to doctors, etc.  I do it all, so he can have the time for his studies.
Kareem has also found support within his tertiary institution. Asked "What is the (university) experience that has left the greatest impact on you?" he says:
One day I was very unhappy.  I used to work at night and go to uni during the day.  The feast was approaching and I had no money to buy my children new clothes or sweets and toys and I decided to quit my studies.  I went to my Arabic lecturer and told her that I was going to quit my studies.  She asked me many questions as to why and tried to encourage me.  When talking with me, she found out that I already had a Degree from Iraq.  I did not present my degree when I started at UWS and did not get any credit points for my university studies in Iraq.  I did not know that it was possible to do so.  I was doing my degree from scratch.  The Arabic lecturer told me that I would be able to get advanced standing for almost half of my degree. Until that time, I did not know. I was very happy.
I did not quit and went home happy and celebrated with my family.
This incident changed my life.
Read other Success Stories of Refugee students at The University of Western Sydney