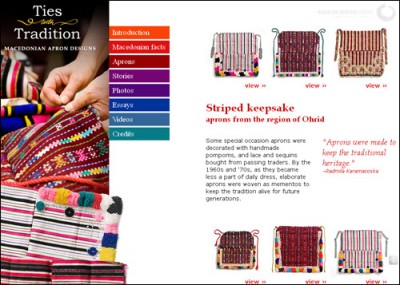 Macedonian Apron Designs Workbook (363k)
This workbook accompanies the NSW Migration Heritage Centre's online exhibition: Ties with Tradition: Macedonian Apron Designs Winner 2010 National Trust Heritage Award. A powerful juxtaposition of colour and patterns, this exhibition showcases over 40 Macedonian aprons from the Illawarra. A Macedonian Welfare Association, Port Kembla and NSW Migration Heritage Centre online exhibition.
Classroom activities include geography questions, history questions, information gathering spreadsheet, mind-mapping, create your own design, and a film making project.
Daniela Ritevski has generously donated her time and teaching expertise to create this workbook for Ties with Tradition: Macedonian Apron Designs.