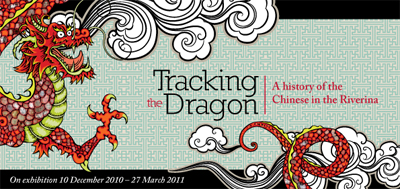 The primary education kit addresses learning outcomes from a variety of stage 2 & 3 key learning areas including Chinese, Creative Arts, English, HSIE and Mathematics.
The secondary education kit addresses learning outcomes from a variety of subject areas including Chinese, Drama, English, History, Society and Culture, and Visual Arts.
Tracking The Dragon online exhibition »
 About the online exhibition
Tracking The Dragon: A History Of The Chinese In The Riverina explores the history of Chinese migration and settlement in the Riverina and Murray regions and features a range of significant objects and photographs. It reveals a complex and poignant story examining the public and private lives of  Chinese-Australian migrants.
The time span and themes are from 1850 to the present day and illustrate many aspects of Chinese-Australian experiences in the region, such as work, leisure, family life, religion and race relations.
Over the past 2 years Dr Barry McGowan and the staff at the Museum of the Riverina undertook extensive research across the region to inform the exhibition, and these primary and secondary resources was prepared for the Museum of the Riverina.
The geographic scope of this research spans the Riverina from Wagga Wagga, west to Hillston, Booligal and Balranald, north to Temora, east to Tumut and Adelong and south to Albury on the Murray River.  
The exhibition counter-balances the older histories of Chinese-Australians working on gold fields – which are often viewed through racially antagonistic events like the Lambing Flat Riots.  In contrast, Chinese-Australians in the Riverina were not considered as a major economic threat – even if they were sometimes viewed with suspicion or curiosity – they were an important and integral part of the local labour force and Riverina community and helped shape the local economy and society. This is similar to the experiences of new groups of migrants and refugees now settling in the Riverina.
Historian Dr Barry McGowan noted in a recent journal that:
Much of the heritage of the Chinese in the Riverina has been lost or at best marginalised… Regional studies allow for a more detailed analysis and description of people's daily lives, in particular the linkages between different families and places, and the European community. They also emphasise the merit in looking beyond the well worn paths of the gold mining communities, and in so doing helping to further illustrate the rich diversity in the lives of the Chinese people in regional Australia and add to the body of work that is so successfully addressing the many stereotypes and generalisations that still litter the historic landscape.
Barry McGowan, 'Shoulder Yokes And Mooncakes: The Chinese Diaspora In The Riverina District of New South Wales, Australia, 1850 To The Present', Historic Environment Australia ICOMOS, Vol 24 (2012) p33