Era:
1790 - 1830
Cultural background:
English
Collection: Mitchell Library, State Library NSW
Theme:
Clothing
Exploration
Settlement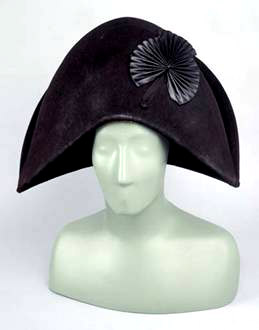 Matthew Flinders Bicorn Hat, c. 1800. Courtesy State Library of New South Wales
Collection
Mitchell Library: State Library of New South Wales, Sydney, Australia.
Object Name
Bicorn or cocked hat.
Object Description
Bicorn or cocked hat that belonged to Matthew Flinders circa 1800. Black velour bicorn hat trimmed with black braid on upper edges, and with leather cockade. 32 cm high x c. 45 cm at widest
Matthew Flinders was born at Donington, Lincolnshire, on 16 March 1774. In 1789 he entered the Royal Navy and two years later joined HMS Providence as a midshipman, serving under William Bligh on his second 'breadfruit voyage' to Tahiti. After his return to England in 1793, he took part in the naval battle of the Glorious First of June 1794 on HMS Bellerophon. The following year he sailed for New South Wales on HMS Reliance. Also on board, as surgeon, was George Bass. Shortly after arriving in Sydney the two men explored Botany Bay and the Georges River in a small open boat called the Tom Thumb. In 1796 Flinders visited Norfolk Island in the Reliance and on his return made a second survey of the south coast with Bass in another open boat also called the Tom Thumb, this time reaching Lake Illawarra.
Flinders' next voyage was to Capetown in the Reliance in order to bring back livestock for the colony. In 1798, by then a lieutenant, he accompanied the schooner Francis south to the Furneaux Islands to salvage cargo from the wrecked merchant ship Sydney Cove. During the voyage he carried out valuable survey work among the islands. After another visit to Norfolk Island he was given command of the sloop Norfolk with orders to discover whether a strait existed separating Van Diemen's Land (Tasmania) from the mainland. In company with Bass, Flinders sailed in October 1798, passed through Bass Strait and circumnavigated Van Diemen's Land thus proving it to be an island.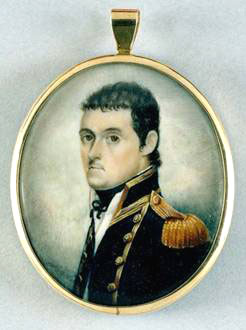 Watercolour of Matthew Flinders, c. 1800. Courtesy State Library of New South Wales
The next year he took the Norfolk northward to explore Glass House Bay (Moreton Bay) and Hervey Bay in the hope of finding large rivers by means of which the interior could be penetrated. He was unsuccessful in this and in 1800 returned to England in the Reliance where he published Observations on the coasts of Van Diemen's Land, on Bass's Strait and its islands, and on part of the coast of New South Wales. He came to the attention of Sir Joseph Banks who backed his plan to survey the entire Australian coastline with the result that in January 1801 he was promoted to the rank of commander and given command of HMS Investigator.
In April that year he married Ann Chappelle, but permission for her to accompany him on the voyage was refused. He sailed in July and sighted the west coast of Australia in December. Commencing his survey at Cape Leeuwin' he sailed eastward and in April 1802 met the French navigator Nicholas Baudin, who was on a similar mission, in Encounter Bay. By May he had reached Sydney' and after overhauling his ship, pushed on northward. However the Investigator proved to be so rotten that after charting the Gulf of Carpentaria' Flinders was obliged to abandon the survey. He continued sailing westward, circumnavigated the continent and arrived back in Sydney in June 1803. With the Investigator out of action Flinders sailed for England as a passenger in HMS Porpoise in the hope of obtaining another vessel with which to complete the survey. Shortly after departing, the Porpoise struck a reef and was lost. Flinders sailed her cutter back to Sydney and arranged for the rescue of his stranded shipmates.
He himself set out again in the schooner Cumberland. The little vessel leaked so badly that after passing through Torres Strait he decided to seek assistance at the French island of Mauritius (or Isle of France) which he reached in December 1803. Unknown to him, war had broken out between Britain and France and although he held a French passport, the governor, General de Caen, imprisoned him as a suspected spy. Flinders was detained on Mauritius for six and a half years during which time he worked on his journals, log books and charts. The last five years of his confinement were spent in comparative comfort in the island's interior among friends. He was finally released in June 1810 and immediately sailed for England. He was promoted to captain and settled down to complete his monumental book, A voyage to Terra Australis. However, his health was failing and he died on 19 July 1814, the day after he received the first copy from the publisher. He was survived by his wife, Ann, and a daughter, also Anne, who in due course was the mother of the famous Egyptologist, Sir William Flinders Petrie. 1
Flinders' contribution to the mapping, understanding and later settlement of Australia's coast is vast and insurmountable. Flinders was the first person to use the term Australia when referring the whole continent of New Holland, New South Wales and Van Diemen's Land. Flinders is one of the most brilliant navigators and cartographers in Australian history and stands alongside Cook in the story of migration to Australia in the early colonial era.
The bicorn hat has historical significance. It was owned by Matthew Flinders, one of the greatest navigators and cartographers in Australian history, and later by the Flinders family.
The bicorn hat has aesthetic significance in the design of naval garments and accoutrements from the early colonial era.
The bicorn hat is significant for researchers as it is one of the few existing bicorn hats from that time. Its design and manufacture make it a good example of a garment from early colonial Australia and Britain.
The hat has intangible significance being an iconic object and a symbol of one of Australia's most successful navigators and explorers.
The object is well provenanced and documented. It was donated to the Mitchell Library by Sir William Matthew Flinders Petrie in1922 and has been in the Mitchell collection ever since.
The bicorn hat is extremely rare. It is one of a few existing items owned by Matthew Flinders. It is also rare as a garment from early colonial Australia and Britain.
The object represents a time early in Australia's history when the colony was still establishing itself and exploring its new environment. The hat also represents the coming of Europeans to Aboriginal Australia as it is instantly recognisable as a maritime bicorn hat and a symbol of the British presence at and expansion from Sydney Cove. The hat is in excellent condition for its age and material.
The bicorn hat interprets the dependence of the sea for the early colony at Sydney Cove, Australian maritime exploration history and the achievements of Matthew Flinders in the mapping of the Australian coast.
---
Footnotes
1 Mitchell Library object record
---
Bibliography
Broese, F 1998,
Island Nation: Australia's Maritime Heritage
, Sydney.
Coupe, S & Andrews, M 1992, Their Ghosts may be heard: Australia to 1900, Longman Cheshire, Sydney.
---
Websites

The Migration Heritage Centre at the Powerhouse Museum is a NSW Government initiative supported by the Community Relations Commission.
www.migrationheritage.nsw.gov.au

Regional Services at the Powerhouse Museum is supported by Movable Heritage, NSW funding from the NSW Ministry for the Arts.

State Library of NSW
www.sl.nsw.gov.au