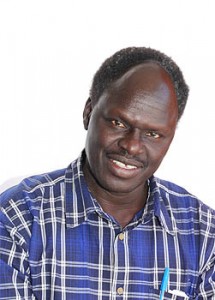 Listen to Edward Massimino:
Audio clip: Adobe Flash Player (version 9 or above) is required to play this audio clip. Download the latest version here. You also need to have JavaScript enabled in your browser.
EDWARD MASSIMINO was born in Sudan and fled to Uganda with his family at the age of five at the beginning of the first civil war, living there from 1964 until 1976. Edward returned to Sudan where he remained until the most recent civil war. He and his wife then moved to Cairo, Egypt for two years before coming to Australia in 2004. They are both studying and working in the field of social welfare. Their children are at school and university, working towards their own goals.
Religion … your culture is there to bind you together, in language, in education … In [Sudan], people sit around the fire and tell stories about the old times, about hunting, about fishing … about the movement of peoples.
Many people decided to come [to Blacktown] because of friends, because of brotherhood and [the local] community.
Interview by Shar Jones, Blacktown City Council Museum Advisor
Photograph by Marian Abboud