Video: Josie Maxwell's migration memories

Video: Josie Maxwell's migration mementoes
cultural background
Filipino
town, region, country of origin
Baguio City, Philippines
start of migration journey
Baguio City, 1980
place of arrival in australia
Melbourne, 1980
first home in australia
Melbourne, then Albury
work or study since arriving in Australia
I worked as a nurse in Melbourne. Then I studied at Albury TAFE and also went to Charles Sturt University. I am currently the president of the Filipino Australian Community in Albury Wodonga
Josie Maxwell's migration memories
My name is Josie Maxwell. I'm of Filipino, Chinese-Spanish background. I was born in Baguio City, up north of the Philippines. Baguio City is known as a tourist spot. It's the [summer] capital city of the Philippines, so a lot of people would be there during the summer months when it's really hot. My family consists of my Mum and Dad and I had five other siblings. There were four boys and two girls. I'm the oldest of the two girls. In my culture I was greatly influenced by my mother, who was the primary carer in our family … My dad was always away because he was a bus driver in the Philippines for a government organisation. So a lot of the caring and nurturing and child rearing practices I've learnt from my mother. They are now both deceased.
In the Philippines I grew up in the city. I went to a normal school, [then] got to college and uni. I've got a background in nursing and I've completed psychology. A lot of the influences that I got from my family, because of their background of Filipino and Chinese, a lot of that I carried and brought with me when I come to Australia.
I migrated to Australia in 1980. My mother's sister who was living in Melbourne for the last ten years came to visit one day and then she [said to] me, 'With your qualifications, the Australian government needs nurses.' My Mum and Dad said, 'We want you to think about this and go because it will actually increase or raise the expectations of people about our family. If you go to Australia, we will be up there, we will be treated as if we are rich because we've got a daughter who has gone to another country.'
If you go to Australia, we will be up there, we will be treated as if we are rich
I got on the plane and I felt a little bit better because I got on Philippine Airlines and a lot of them were Filipinos. I thought there is a lot of Filipinos going to Australia so it's fine. And when I get off the plane, I thought all these Australians look alike, because they were all pale and I thought they have yellow hair, blonde hair. When I got off the plane there were a lot of the people helping me find my aunt and they were speaking with an Australian twang and that was really really difficult to understand.
I actually ending up staying two years in Melbourne, where I meet my husband Sam, and then I moved to Albury. My husband had a house in Thurgoona, in Albury and that area was being developed at the time by the Albury Wodonga Development Corporation. This is the area that my husband chose to build his house in because he reckoned this is a new area, there weren't a lot of houses at the time. The area was really nice. There were a lot of trees around, there were tennis courts, there was shops and there was a neighbourhood house.
Obviously when I arrived and I got married with Sam, I was very lonely. I was away from my family. I really didn't know anyone and the people I was linking with, networking with, were my husband's family. Sometimes the accent, the Australian accent, even my husband's, I had difficulties understanding their English because they were so fast in their talk. But the thing I did with my husband is really funny. He's got this warped sense of humour ‒ Australian warped sense of humour ‒ so when he tells a joke in front of other people, I would wait for him to laugh and when he starts laughing, then I'll start laughing. But I didn't really know what I was laughing at. In these sorts of things I feel that my husband supported me in my first few years in Australia.
I was very lonely. I was away from my family. I really didn't know anyone
In Thurgoona the corporation had a social worker that was going around the houses and welcoming the families. One day, she knocked on my door and introduced herself. I was talking to her about how lonely I was, how I needed to link with someone and because the houses next to me were being rented out by the corporation, there wasn't a consistent friend, because those people moved away. There were times when I thought I'm getting to know these people, I really like her, then she is gone after a month or two.
The social worker then said, 'Come and have lunch with us. We've got a group of women that have houses who are permanently staying around Thurgoona.' She was walking out the door and she said, 'Bring a plate' and I said 'OK'. That night I said to my husband, 'I have been invited to the neighbourhood house by the social worker and she said bring a plate.' He said, 'That will be good, you will meet other people.' I went to the lunch a few days later and the social worker met me at the neighbourhood house and she said, 'Did you bring your plate?' and I said, 'Yes I did.' So I brought out my plate, my knife and my fork from my basket and then I look at the others and they have food on their plates. The social worker didn't actually explain when you bring a plate, you put food on it!
[She] didn't explain when you bring a plate, you put food on it!
I stayed in Thurgoona until 1986 and in that time I went and accessed courses at Albury TAFE [and] went to Charles Sturt Uni in Albury. I also meet a lot of the members of the Filipino community. Someone had knocked on my door and said, 'We've got some Filipinos here, there's not many.' But when she said there's not many, there was a bus that came from everywhere and visited me in the house. I got to know a lot of those Filipinos, and because I didn't drive they used to come and pick me up and take me everywhere. I used to use the library in Albury because I did a lot of reading and I didn't have a lot of money then to buy books, then I found the library. There was even a mobile library and the lady one day said, 'You can borrow books from here', and then she said 'You can also access the library in Albury.' So every week I would go to the library and swap the books.
I didn't have a lot of money then to buy books, then I found the library
There was a lot of positives with me coming to Australia. My husband's mother, my mother-in-law, she's Australian, and she took over the role of my mother because I was very young when I married my husband, I was only 23. So she used to come and visit me at our house. She would say, 'I'm going to show you how to bake scones', 'I'm going to show you how I do my stew' and all that sort of thing. She used to pick me up to do the shopping and take me to the supermarkets and shop, or she used to go to Arnold's, the fruit and veggie shop, and she used to take me there and she would tell me you use this veggie to cook this and that and what have you. These are vegetables I've never seen in my life.
My mother-in-law took over the role of my mother because I was very young
In terms of my culture here, I'm currently the president of the Filipino Australian Community in Albury Wodonga. I have been in that role for the last two years. I've seen the change of the category of people that arrive here. In 1980 when I first arrived, I've heard of the mail order bride. I wasn't one of them but it was very common to see younger women marrying older men. In the last 12 months we had 18 families that have arrived and they're all working, they're mechanics, they're panel beaters, they're welders ‒ all those skilled jobs that are lacking in Australia, they've filled it.
Memorabilia
[When I was young] I didn't really have the opportunity to sit with my mother and document the way that she cooks. You can have a recipe book and you can follow that but I think I should have watched my mother when she was cooking because that's a skill that is now lost. I wouldn't be able to learn that now. When I left the Philippines one of the things that she [my mother] packed in my suitcase was a recipe book, a Philippine's recipe book, thinking that perhaps I'd learn to cook in Australia. One of my favourite recipes, something that I like to eat or cook, is what you call adobo. Adobo is actually either pork or chicken or both of them. You cook them in vinegar, garlic, soy sauce, a bit of sugar, a bit of water, a bit of pepper, so the taste is sweet and sour. You boil the meat until it's really really soft, until almost all the soup or water has dried up. By the time it is cooked there will be like a sticky paste on the meat.
I should have watched my mother while she was cooking
When I first left the Philippines in the 1980s, I was given a lot of photos of my family, of my extended family by my mother. So I brought them with me, and I used to look at them all the time so now the photos are quite faded because I used to handle them all the time. I've kept them [because] there are a lot of photos including my grandmother with me and my siblings when we were very young.
My maternal grandmother was actually called a 'medicine woman'
My maternal grandmother was actually called a 'medicine woman' (manghihilot). She used to sell vegetables but she used to use a lot of herbs to heal people. The thing that I remember is that when I was probably about four or five years old she used to take me to the market while she was selling her vegetables. I used to sit next to her and being with her all the time I learnt what herbs to give her, what roots she needed. I was like her assistant at four or five years old. I would sit on the ground with her and she would be chewing on the beetle nut and she had the mortar and pestle. And then I noticed there was a lot of people who were queuing up and she was using herbs to heal people. When I used to visit the Philippines I would see those herbs on the side of the street and I would say, 'My grandmother used to boil these leaves to get people to heal when they've got upset stomachs and sores and not a lot of doctors can heal them.'
But these wood carvers would have the designs in their heads
There's a lot of wood carving in my house, they all came from Baguio City, in the Philippines, where I grew up. Very skilled wood carvers, they used to work on the side of the road and there's not a lot of machinery, they're still using their hands and chisels to do it. What I found, a lot of the time it would be one piece of wood. Other carvers I've seen glue them together, but these wood carvers would have the designs in their heads. They didn't even have a drawing, they were designing as they carved. Lots of woodcarvings would depict people, their lifestyle, their way of life. And in a lot of the wood carving you'll see a lot of people with dogs because almost every household in the Philippines has a dog.
Josie Maxwell was interviewed on 23 January 2013.
Research, interview, research, text edit, and film production by Karlie Hawking, Albury Library Museum
Filming, editing and photography by James Gallimore.
Film transcription by Catherine Phelan.
Web layout by Annette Loudon, NSW Migration Heritage Centre.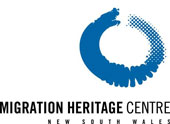 This Moving interview is part of a collaborative project between the NSW Migration
Heritage Centre and Albury City.