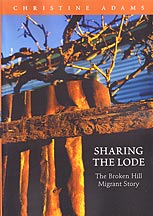 <em>Visit Broken Hill and see the exhibition there or read the book – an online version of the exhibition is on the Migration Heritage Centre website.
</em>Sharing the Lode: the Broken Hill Migrant Story is a publication and an exhibition about Broken Hill's non-English speaking migrants who arrived in a harsh and alien outback mining town and chose to call it home.
The Hon. Bob Carr, former NSW Premier, Minister for the Arts and Minister for Citizenship launched the book before a large and enthusiastic audience at the Broken Hill Regional Art Gallery on 23 November 2004.
Now in its second print-run, this evocative book has inspired a new Sharing the Lode exhibition at the Migrant Museum, Sulphide Street, Broken Hill which was launched by Stepan Kerkyasharian, Chair, Community Relations Commision in June 2006.
The book can be purchased for $44 plus p+p through the Broken Hill Migrant Heritage Committee Inc. Profits from book sales will continue to support the Committee's vital work in recording the memories of migrant communities and documenting their special collections.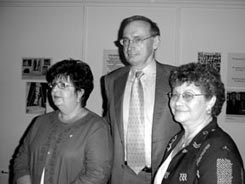 L-R: Barbara De Franceschi OAM, the former New South Wales Premier the Hon. Bob Carr and Christine Adams at the launch of Sharing the Lode in 2004. Photographer: Don McKinnon
Sharing the Lode is a Migration Heritage Centre partnership project with the Broken Hill Migrant Heritage Committee Inc., supported by the Community Relations Commission. The book was researched by local and family historian Christine Adams; exhibition development assistance was being provided by the Powerhouse Museum's Regional Services team and NSW Migration Heritage Centre has featured excerpts of it online.
PROJECT CONTACT:
Broken Hill Migrant Heritage Committee Inc.
Address:
370 Kaolin St, Broken Hill NSW 2880
Tel: 08 8087 4609
Email: pc.adams@bigpond.com.au
'Bundle Mary'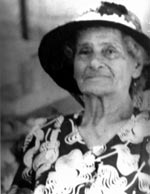 Bundle Mary' (1868-1955) Photograph held by Ramon Ware
Older Broken Hill residents remember 'Bundle Mary' (Marina Boulus Kuram) as an old woman wandering the streets of the city selling her wares to all and sundry in the first half of the last century. She courageously left Lebanon with her young daughter and joined her brother in Broken Hill because she was looking for a better life.