Meet Football United players Ahmed and Yom who will represent Australia at the 2010 FIFA World Cup Football for Hope Festival in South Africa.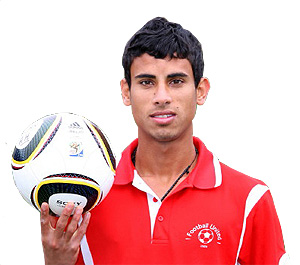 Ahmed Thafer
Ahmed is an 18 year old from Iraq and has lived in Australia for 18 months. The best thing about being in this country is, "In Australia, everyone has choice and are free".
From an early age, Ahmed has been passionate about football and used to play in Iraq with his father and brothers. With no access to standard footballs, they played with balls created from the few materials around them. "We would play with a ball made from hard plastic. I started kicking with my right foot but the ball was so hard it broke all my toenails, so I had to start using my left foot. So now I can kick equally well with both feet."
Ahmed's father has been in Australia since 2000. In 2006, Ahmed and his mother, brothers and sisters moved from Iraq to Syria. The family eventually reunited in western Sydney in 2008. Ahmed admits he misses his grandparents and the food from his former homeland.
Every spare moment of the day, at home and during school breaks, Ahmed has a ball at his feet. Using different sized balls, he can 'juggle' a ball one thousand times. "I want to be a Socceroo; that is my dream."
Ahmed's favourite football players are Lionel Messi (Barcelona FC) and Alex Brosque (Sydney FC).


---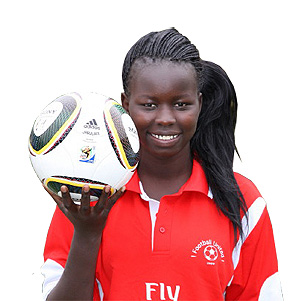 YOM GABRIEL MAPIOU MUN
Yom is a 17 year old from southern Sudan who spent seven years in a refugee camp in Kenya. From there she came to Australia in 2003, where she first learned to play football. "In Sudan and in Kenya, girls do not have much freedom. We don't play sport much."
She remembers arriving in Sydney and was struck by the city's modern, high-rise buildings when her plane flew over. Yom now lives with her family in western Sydney and plays for Lidcombe Waratahs, the local football team. To develop her football skills, Yom practices in her backyard with her younger brother and runs several times a week to keep fit.
Football United unexpectedly reunited Yom with Anyier (Teresa) Youl, a Sudanese friend she met at the Kenyan refugee camp. Both have been selected to represent Australia in the Football for Hope Festival and are travelling together to South Africa next month. Anyier lost both her parents to civil war and lives with relatives who do not understand her passion for football; this is common among many of the Sudanese girls.
Yom is currently at school in Year 11. Upon completion, "I would love to play professional football and go to university next year and study sports or events management."

Yom's favourite football players are Tim Cahill (Everton FC) and Alex Brosque (Sydney FC).