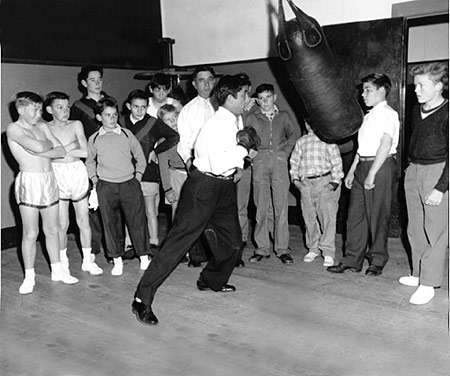 Ted and Russell Khan, supporters of Police Boys Club, c.1950s
Napredak Club
Yugoslav migrants came here as single men or married men without wives, and everybody had in mind to stay one or two years, make a few hundred pounds and go back home. But they found out it was hard to make a fortune here, so they started bringing their wives and their children to settle in Broken Hill.
By 1928 the Slav community needed its own meeting place and the Napredak Club was born. Our forefathers had a great ambition for the salvation of our future. They expressed it in the constitution of the Club: unite all Yugoslavs in Broken Hill; help with newcomers and integrate with the local people.
Our very first founders, when they formed the first Yugoslav Club in Australia, made sure that people from one area of Yugoslavia didn't dominate. The emphasis was on friendship towards all people from Yugoslavia.
The founding members of the Napredak Club were: Joe Alagich (President), Peter Vukobratovich (Vice President), Ivan Segedin (Secretary), Matt Alagich, Steve Alagich, Vic Alagich, Ivan Cetinich, Matt Giljevich, Ivan Grubusich, Tom Katich, Ante Kovacevich, Pasko Kronja, Luka Lupis, Jerko Marinovich, Mijo Nemcich, Joe Perina, Ivan Ravlich, Ante Serich, Jure Sutich, Ivan Viskich, and Vic Viskovich.
When the Club was built in 1936 it was for the Yugoslavs. In later years, the Napredak Club decided to change its name from the Yugoslav Community Club to the Broken Hill Community Club. Everybody willing to obey our constitution may become a full member of the Napredak Club.
We have managed to avoid hate, petty jealousy and rivalry seen in other countries where many people from Yugoslavia have settled. We owe a lot to those early pioneers.

---

We all used to meet at one house in Eyre Street - sitting at a big table on a verandah that had big grapevines; talking, talking, talking. It was wonderful. I didn't need anybody. I had friends, sisters, relations.
Maria Oreb
I felt like I was in my own town in Blato; it was like a big family. We used to go to the Napredak Club and the GUOOF Hall to dance. We were always together - all the Croatian people.
Jagoda Vlatko
The Greek Hall in Argent Street was a huge get-together place where the Greek community would have dances and meals at the Greek Hall. You would have to get there early to get a table because the place would be packed. That's how families kept together.
Kathy Skiadas

---

Italo International Club
Italians living in Broken Hill during the 1940s socialised within their homes. Dances and social gatherings were held in Rossetti's boarding house and the Dalla'Valle homes. Italian friends from South Broken Hill played accordions and guitars. Migrants, including the Toigo, Miani, Tiziani and Piasente families, built bocce pitches in their backyards.
The number of Italians in Broken Hill increased after the Second World War, particularly in the 1950s. Social gatherings were still held in private homes, and community halls were hired for regular dances.
John Licosi was a foundation member and inaugural President of the Italian Club which opened its club premises in Crystal Street in February, 1960. John was president for eight years. He was succeeded as president by Antonio Berenatto who served the Italian community from 1964 to 1968.
Support for the Italian Club waned in the late 1970s, and the Italian Club ceased operating. John De Franceschi became caretaker president at that time. Interest in and enthusiasm for an active club was again evident in 1988.
It was decided to incorporate the Club, and change its name to the Broken Hill Italo International Club Incorporated. The objective behind this was to broaden the membership base and cultural background to embrace families of Italian descent and their friends and anyone that would like to participate in our traditional culture.
The present club was opened on the 28th March 1992. John De Franceschi presided over the Italian Club during the years of rebuilding and is the current presiding member.

---
We get together for parties but we talk our own language most of the time and the men chat together and have a beer.
Merita Nicholas
We celebrated Norwegian National Day. We rented a hall and had Norwegian and Australian flags side by side. One of the Norwegians played the piano accordion and we danced.
Dagmar Kanck
We had the Maltese Club. It was next door to where the Duke of Cornwall is now. The Club was for Maltese only. We used to gamble at baccarat.
Paul Sultana

click to enlarge »
Napredak celebrations

click to enlarge »
Norwegian Day celebrations, c.1960s

click to enlarge »
Richard De Franceschi climbs the greasy pole

click to enlarge »
Italian Club, c.1954

click to enlarge »
Italian Club celebrates Christmas, c. 1960s

click to enlarge »
Pottery tea set. Courtesy Wu Family

click to enlarge »
Croatian dress.