First Impressions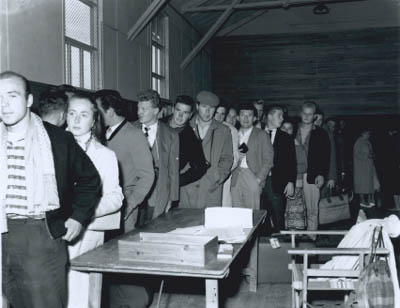 The immediate challenges for newcomers on arrival were to gather luggage and to come to terms with the kind of accommodation that the Centre provided.
The temporary accommodation provided at Bonegilla was rudimentary. The buildings were mostly standard Army type huts which were usually unlined timber-framed huts with corrugated wall cladding and low pitched gabled roofs of corrugated iron or asbestos cement. They had been built to accommodate twenty people and had no internal partitions. They were arranged in 24 blocks, each with its own kitchen, mess huts and ablutions. Little was done to prepare the facilities for accommodating migrants in 1947.
Initially the Army provided transport, security and catering services. Army-like routines were adopted with the issue of stores such as eating utensils, linen and blankets. Army clothing was supplied when needed. The canteen and meals were arranged along military lines. The Army left Bonegilla in 1949, but in 1965 returned to occupy some blocks for training purposes.
In the midst of the huge post-war housing shortage, publicists reassured the Australian public about what was offered newcomers: the accommodation was 'only reasonably comfortable'; the food plain, though nutritious and plentiful; there was neither luxury nor squalor. The immigration reception and settlement processes were supposed to be efficient and effective; all expenditure was carefully monitored. Australia, they declared, could feel comfortable about large-scale non-British immigration.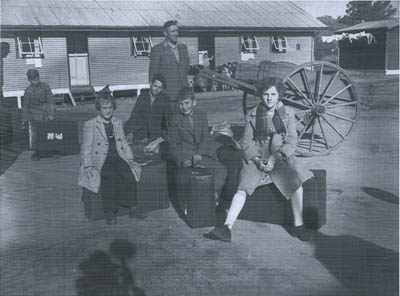 Improvements were made to the facilities from about 1951 when Assisted Migrants rather than Displaced Persons arrived. Gradually the single-sex group dormitories were converted into cubicles, slightly less than 4m x 3m, which provided some privacy. Walls and ceilings were lined and painted. However, in 1953 Bonegilla was still an Army camp with unlined messes, deep-pit latrines and no heated residences. From 1954 on there were gradual improvements to make Bonegilla more family-friendly, indicating that immigration policy had shifted in focus from simply meeting manpower needs to more general population-building purposes.
Most migrants remember the facilities as not being suitable for families. In written memory pieces they call the huts 'shacks'' or 'chicken sheds' with 'cubby-hole sized cubicles'. Many baulked at the folding camp beds on 'farm-gate' bases, the communal washrooms and the Army presence.
There was nothing there to uplift the spirit or claim to be civilized … just lots of people put into the vastness of Australia
, Marita B, Ukraine, 1949.
Food was used to ease newcomer anxieties – and even to make up for the discomforts of the spare accommodation. Staff prided themselves on being able to sit new arrivals down to a meal within 65 minutes, even at the busiest of times.
Some residents secretly prepared their own meals. Children, however, recall food indulgences: loads of bread and jam, cocoa, cheap chocolates and even pineapples.
There was always plenty to eat, but every now and then it got boring. You only had to look at your plate to know what day of the week it was
, Gerda S, Germany 1955.