The largest internment camp in Australia during World War One was at Holsworthy, near Liverpool on the outskirts of Sydney. The camp held between 4,000 and 5,000 internees, most were either from the Austro-Hungarian empire, staff of German companies temporarily living in Australia, crews of vessels caught in Australian ports and naturalised and native born Australians of German descent. Prisoners were interned without trial, often without knowing their "crime", and without the knowledge of their families.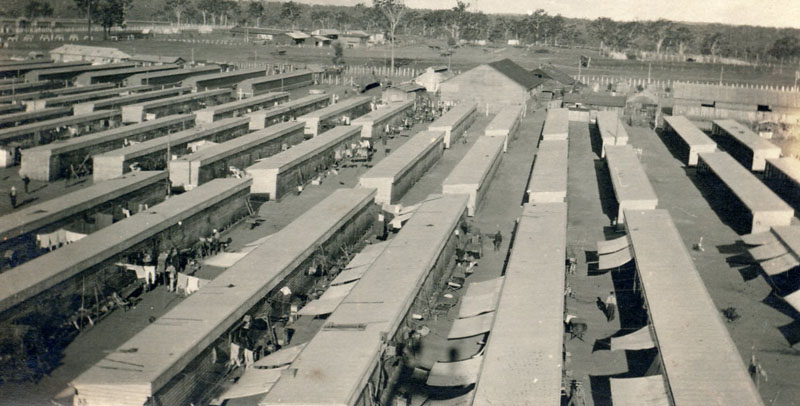 Some were brought from camps in other Australian states that were closed early in the war. Many from Western Australia, who had been employed in gold fields around Kalgoorlie, had originally come from states within the Austro-Hungarian Empire such as Serbia and Croatia. About 700 of those interned were naturalised British subjects, and 70 were Australian born. Despite this many of these internees were deported to Germany after the war.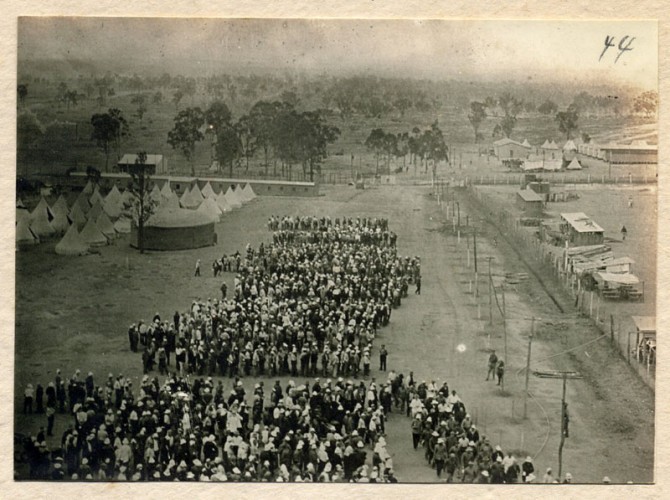 The camp grew from a collection of tents to a small town of huts complete with theatres, restaurants and cafes, other small businesses, an orchestra and sporting and educational activities. Physical conditions in the camp were difficult. Living conditions were overcrowded and sanitary facilities were basic. There were also reports of corrupt or brutal guards working in the camp.
The camp was overcrowded and political and ethnic differences were everywhere. Heat, cold, dust, boredom, and stress about families and businesses led to a malaise called 'barbed wire disease'. Guards taunted and shot at the internees. Some internees suicided and others tried to escape. The most troublesome prisoners were housed in a high security gaol known as 'Sing Sing'.
Hard work helped to relieve the boredom and overcome the problems. The internees built their own barracks and furniture, the administrative buildings and watch towers, and all but the first 2.2km of the railway line from Liverpool. Regular arts and craft competitions, theatre and music nights and other activities were organised.