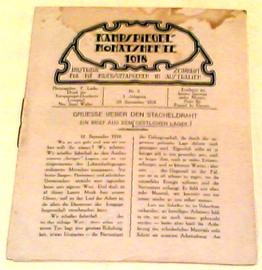 Kampspiegel Monatshefte, 1918. Photograph Stephen Thompson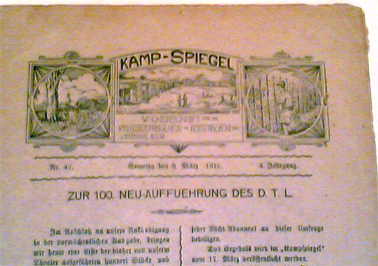 Kamp Spiegel,
1916. Photograph Stephen Thompson
Collection
Liverpool Regional Museum, Liverpool, Australia.
Object Name
Holsworthy 1914 – 1918 Internment Collection.
Object/Collection Description
The Collection is associated with the Holsworthy German Internment Camp at Liverpool. It consists of medals, militaria, archaeological material, archives and original photographs. Objects are metal, wood and paper. The Collection is in fair to good condition.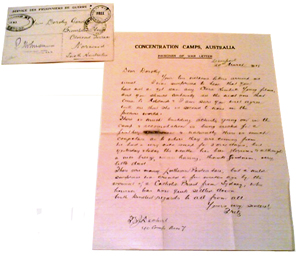 Internee's letter to relatives in South Australia c.1916. Photograph Stephen Thompson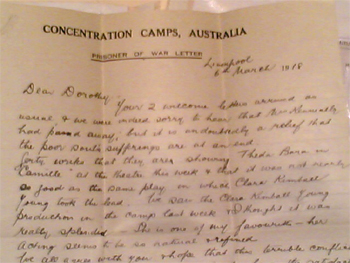 Internee's letter to relatives in South Australia, c.1916. Photograph Stephen Thompson (detail)
The outbreak of fighting in Europe in August 1914 immediately brought Australia into the Great War. Within one week of the declaration of war all German subjects in Australia were declared 'enemy aliens' and were required to report and notify the Government of their address. In February 1915 enemy aliens were interned either voluntarily or on an enforced basis. In New South Wales the principal place of internment was the Holsworthy Military Camp where between 6,000 and 7,000 men were detained. Women and children of German and Austrian descent detained by the British in Asia were interned at Bourke and later Molonglo near Canberra. Former jails were also used. Men were interned at Berrima Gaol (constructed 1840s) and Trial Bay Gaol (constructed 1889). The internees at these camps created their own management committees that organised entertainment, sport, culture and arts activities.
The largest internment camp in Australia during World War I was at Holsworthy, near Liverpool on the outskirts of Sydney. Sources may refer to it as either 'Liverpool camp' or 'Holsworthy camp'. The camp held 6890 internees, most having German or Austrian parentage. While most of the 4500 internees from within Australia had been resident in New South Wales, some were brought from camps in other Australian states that were closed early in the war. Many from Western Australia, who had been employed in gold fields around Kalgoorlie, had originally come from states within the Austro-Hungarian Empire such as Serbia, Croatia and Dalmatia. About 700 of those interned were naturalised British subjects, and 70 were Australian born. Many internees were deported after the war.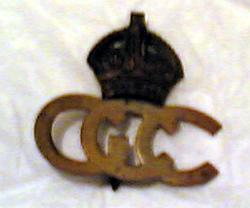 Holsworthy Guards Hat Badge, c.1916. Photograph Stephen Thompson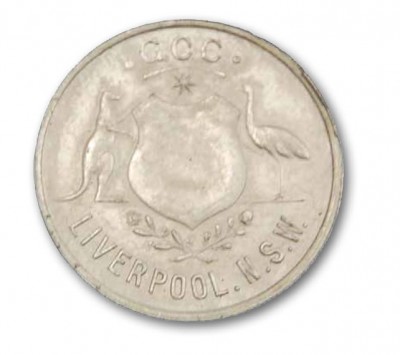 Liverpool Internees Camp Medallion, 1914. Photograph Stephen Thompson