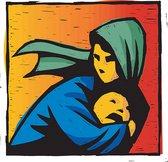 "An immigrant leaves his homeland to find greener grass. A refugee leaves his homeland because the grass is burning under his feet…"

Barbara Law, Mary Eckes  -  More Than Just Surviving Handbook: ESL for Every Classroom Teacher, Portage & Main Press, 2000.
These are the inspiring and heroic stories of six students at the University of Western Sydney who came to Australia as refugees.
In spite of all the odds of trauma, multiple displacements, extended stays in refugee camps, severely disrupted schooling, language and cultural problems, they kept the hope and the dream alive and were able to succeed.
This project was initiated and coordinated by Dr Rosemary Suliman, Senior Lecturer, College of Arts, Education and Social Sciences, School of Humanities and Languages, Bankstown Campus, University of Western Sydney. The stories were written from extensive interviews held with the students. The interviews were held by Rosemary and the stories were written by Joshua Meyer (doctoral candidate and sessional academic at the University of Western Sydney).
The names of students were changed, for confidentiality.

A word from Rosemary Suliman
I would like to thank John, Sarra, Kareem & Maryam, Rima, Sahar and Hanan, the students, who willingly shared their extraordinary stories of courage and resilience, and who kept the hope and the dream alive and were able to succeed;
I would also like to thank Joshua Meyer for his time and interest in transforming the transcribed interviews into these interesting stories; Thank you to Joya Douaihi and Eva Hermiz (students at UWS) for transcribing the tapes and providing translation where needed;
Thank you to Annette Loudon, NSW Migration Heritage Centre, for the Web design & production.
A word from Joshua Meyer
I don't know the people whose stories you are about to read. They came to me in translated transcripts of tape-recorded interviews. I want to thank Sarra, Rima, John, Hanan, Sahar, Kareem, and Maryam, for trusting me to perform another act of translation by turning those transcripts into the narratives that follow. I'm grateful for the opportunity to help them to tell these important stories, and I hope they feel I've done them justice.