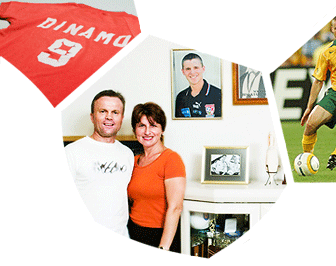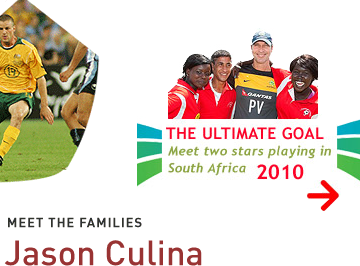 Branko Culina describes his feelings as a 1960s migrant...
"It was different for the other players, from countries like Italy and Greece. They still had a country. For us our country, Croatia, was in soccer and in the church."

listen to an interview with
Branko & Nada Culina »

Like many of our favourite Aussie football stars, Jason has a migrant background. The Culina family (pictured above) originally came from Croatia.

Branko and Nada Culina now have two A grade playing sons, Jason and Dean. Branko is proud that there will be six Aussie players from a Croatian background in the 2006 Socceroo team. Socceroo Jason Culina was born on 5 August 1980. He played in the Dinamos under sevens team and was just 19 when he went to play for glamour European club Ajax Amsterdam. Jason has played for Australia since 2005 and now plays for PSV Eindhoven in Dutch Eredivisie.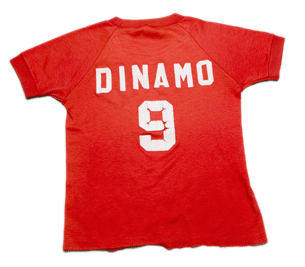 Meet Branko Culina



I came to Australia in 1968, January 1968. I was a 10 year old and came with my mother from Croatia. I suppose we came to Australia because we were looking for a better lifestyle that the one we had back home in Croatia.

Croatians were a closely knit community, in those days when we first arrived here, probably still are but not to the same extent to when they were, the bond between the Croatian community and soccer or football as we know it now and the church, were the two main community gatherings that people got together on a regular basis.

It kept the community together Croatia for a long time was then part of Yugoslavia and people didn't have the freedom to express themselves in the way they wanted to. We didn't have the freedom in Croatia.





Branko Culina on football



Jason was six when he started, Dean was about eight when he started, they were both very talented, skill-wise Dean the older of the two was possibly more advanced but Jason has always had that determination, the work ethic. We are a closely knit family.

The greatest joy for me is to just see him grow up into a terrific human being that's the most exciting thing. Football is another issue we are very proud of him there are many moments that give us tremendous pleasure.





Meet Nada Culina



I came to Australia with my parents and my sister in 1969. None of us spoke any English, whatsoever, it was very hard at the start. My sister and I had special English classes. It was very strange because I think in the whole school we attended there were three other kids who were migrants everyone else spoke English, it was a shock to everyone they didn't know what to do with us. They put the five of us in special English classes.





Nada Culina on football



In a couple of the clubs when the kids were little I was club secretary, you just get involved it was an enjoyable time when we think back now. We made a lot of friends through being active in different clubs. It was really nice enjoyable time I do like soccer, football, l like mostly when the boys are playing I like to watch them play but I also like watching big games on TV.