Australian Football- Post 1974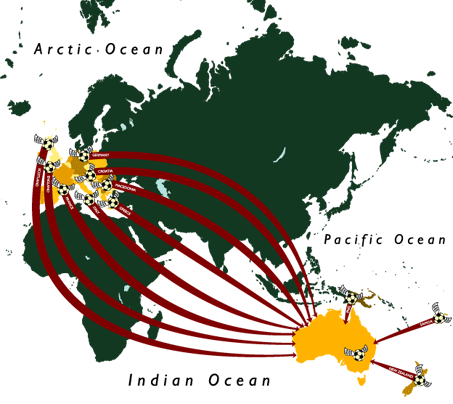 Strangers in a strange land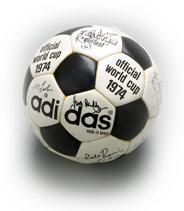 Ball: from the 1974 World Cup.

The English game of the 1900s became a popular sport with Aussies from many different cultural backgrounds … and their input took us to World Cup status in 1974.

Thousand of European migrants came to Australia after Word War II. Many joined soccer clubs as a way to make friends, continue links with their old country and play the game they loved.

The club names often reflected the players' cultural background. The Czech club was 'Prague', the Jewish was 'Hakoah' and the Italian was 'Apia'. Back then the players were insulted with names like 'sheilas, wogs or poofters' as soccer was considered unAustralian.

In 1974 the Socceroos won their way into the World Cup by defeating South Korea, Iran and Iraq. Under the coaching of Rale Rasic, the team scored their first World Cup point by drawing with Chile.

Meet Rale Rasic

1974 Socceroo's coach Rale Rasic talks about his childhood in an orphanage in Yugoslavia, and his approach to coaching the Socceroos...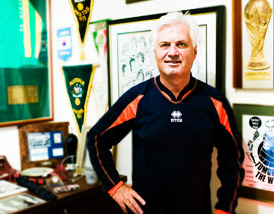 Photo: 1974 Socceroos coach Rale Rasic

listen to an interview
with Rale Rasic »

I grew as an orphan in Yugoslavia. In orphanage house you had to make your bed like a box of matches, everything to perfection. You could not throw the shirt or your trousers in your cupboard it had to be perfect, super organised, there was flexible discipline, fair discipline. But discipline all the way. Once the rules are made they have to be applied. The teacher in orphanage house gave everything in this world but I never had love, never someone to give you a hug that was the only thing missing in orphanage house, everything else we had was to perfection.

I had a secret weapon, in my bag I had a four year plan, which no coach had ever, ever produced in Australia. I had a step by step plan of what I wanted, what I needed. I went as far as checking the hotel where we were staying checking which rooms, checking who was the chef and checking how clean the kitchen was. At the first meeting I asked to change the shape of the plates, from a round to oval plate. I organised the biggest piece of beef, and each player had to cut his piece of beef to put on the plate. I organised it be fairly rare, not well done, a bit bloody.

I asked the players how it was, they said fantastic but a bit too much blood. I said "eh eh" that's where it stops. That's what I need from you for four years. That's how it started, my first meeting with them. I gave them one page of written rules. I said on the first day first night "So you have any suggestions? We can incorporate them, and then you sign. Each one of you has to sign" and that's what they did. They asked "Why?" I said "So I can punish you". So for four years that was one of the rules. Only if the discipline was breached in a serious sense, were they punished.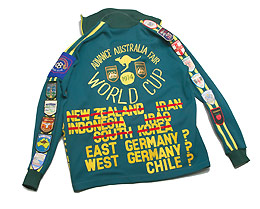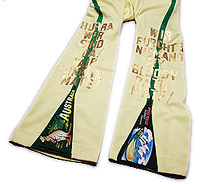 Socceroo mascot suit: Jim Scane, now 90, was the Socceroo's major fan in Germany in 1974. He went to all the matches and covered his green and gold suit with the names of the Australian squad ... and most of the opponents. Whenever Australia beat a team, Jim put a big red mark across the name.


Meet Mr Soccer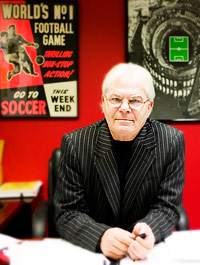 Les Murray has been the face of soccer on SBS for decades. He came to Australia with his family in 1956 as refugees fleeing the Hungarian revolution.
"I'd argue with kids at school and they all were convinced that rugby league was the most popular world sport. That shows how isolated Australia was. Soccer had to be introduced by migrants. We've come a long way."

listen to an interview with
Les Murray »

Les Murray talks about migration and the early days of football in Australia...

I came to Australia after the 1956 revolution in Hungary, we were refugees. My family defected from Hungary, basically we fled across the Austrian border, we migrated to Australia.

The Hungarians formed their own clubs, various clubs, social clubs, so they could socialise with each other. That's what migrants do. Among them was forming football clubs in various cities. Sydney had one called Budapest, so we followed that as our team. It was quite a nice relief on weekends to do that.

Migration is a difficult thing in the early years before you totally assimilate. Once migrants went past that survival process and assimilated into the Australian mainstream and then of course when they had their children who were born here, so they had no problem about assimilation and their need to go to football matches to follow these clubs faded away. And little by little most of these clubs set up by the migrants, the so called ethnic clubs have died away, they died a natural death.



This Socceroo outfit by and large are the children of those migrants, children of that migrant boom of the 50s, 60s and 70s. Without those migrants having planted the seeds of football in this country this Socceroos team would not exist.

The beauty of this Australian football team is it marries a lot of qualities the migrants brought into Australia. Their cultural qualities, technical qualities The different cultural backgrounds and football skills, they grew up learning football skills from their father, whether Croatian or Italian background kids, and Lebanese, they all carry cultural values, and because they grew up in Australia they also have that envied 'never surrender' attitude, this never surrender attitude, work ethic and discipline. All these Australian sportsmen and women have it. Married to these technical and cultural qualities, it makes this team a very formidable team. No other team in the world has quite this combination of qualities.





Sydney celebrates




Crowds erupted onto Sydney streets after Australia defeated Uruguay on 16 November 2005. After 32 years, the Socceroos were back in the World Cup!

The Federation Internationale de Football Association (FIFA) World Cup started in 1930 and is played every four years. The Cup is played over three years, with the participating teams whittled down to a final elite 32 countries. The next finals, which draw massive crowds, are being played in stadiums across Germany from 9 June 2006.