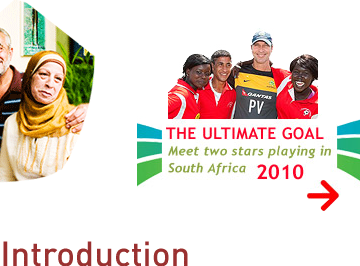 A NSW Migration Heritage Centre online exhibition, in association with the Powerhouse Museum.

The Migration Heritage Centre at the Powerhouse Museum is a New South Wales Government initiative supported by the Community Relations Commission.





View the Sydney Morning Herald's video of The World Cup Dream exhibition launch.



Hear stories of Australia's soccer mums and dads



listen to an interview with
Dale Chipperfield »

listen to an interview with
Branko & Nada Culina »

listen to an interview with
Mahmoud & Wadad
Elrich »

listen to an interview with
Maria & Antonio Grella »

listen to an interview with
Hans & Doris Schwarzer »

listen to an interview
with Rale Rasic »

listen to an interview with
Les Murray »
A collaborative project between the NSW Migration Heritage Centre and Powerhouse Museum, this online exhibition highlights the migration history of Socceroo families, their experiences of moving to Australia and their undying passion for the game.

Colourful interviews with the parents of five Socceroos - Vince Grella, Mark Schwarzer, Scott Chipperfield, Jason Culina and Ahmed Elrich - tell their personal stories. Their diverse family backgrounds - Italian, German, Anglo-Saxon, Croatian and Lebanese - show how the face of football in Australia was transformed by post-war migration.

Any list of players' names demonstrates the game's cultural diversity. Football clubs have always had an important role in helping migrants to come to terms with their new Australian society and to meet fellow countrymen and women.

Football for many ethnic groups was more than a simple leisure-time diversion. For many, it was a ticket to the New World and an avenue to economic opportunity.

Gain fresh insight into Australia's football culture by listening to interviews with Rale Rasic - Socceroos coach in 1974 when we last competed in the World Cup - and with Australia's best known football commentator and author, Les Murray.