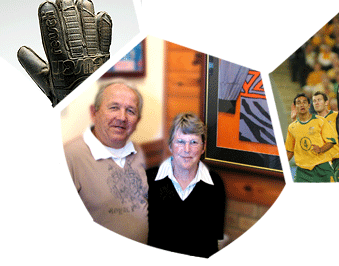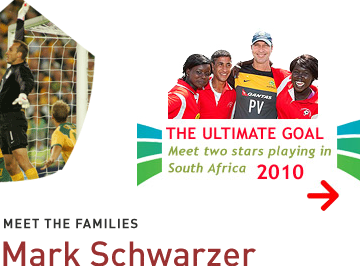 Doris Schwarzer describes her first few weeks in Australia, back in 1968...
"We went to Cabramatta migrant hostel. It smelt terrible; they cooked lamb 24 hours a day."

"I remember going to the butcher when Mark played soccer as a kid. The butcher said that soccer is for softies."

listen to an interview with
Hans & Doris Schwarzer »

Like many of our favourite Aussie football stars, Mark has a migrant background. The Schwarzer family (pictured above) originally came from Germany.

Mark Schwarzer was born on 6 October 1972. He first played for Colo under sevens. At the age of 15 he joined the Marconi-Fairfield club and four years later played seniors. In 1992-93 he won 'goal-keeper of the year' and the National Soccer League (NSL) championship. Mark made his Socceroo debut against Canada in 1993 and currently plays for Middlesbrough (England).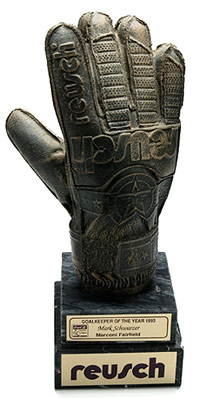 Doris and Hans Schwarzer



Doris: We had nothing to lose. We said if it doesn't work out, we go back after two years. We had no children, nothing, we had just got married.

Hans: Actually it was our honeymoon, it took us four weeks to come over by ship, it was quite an experience too.

Doris: I went once to the local butcher, Mark played soccer already. The butcher knew me and he asked does "Is Mark playing soccer? Soccer is only for softies, a real boy, a real man only plays football". That was the attitude. I think it was when Mark was in the under sevens.
Hans: He played for Colo Soccer Club. He stayed there until the under ten's, he progressed to the Nepean district team.

Doris: At the beginning you used to play in the normal club team then the representative team. You had to play in both. These days you don't have to play in both.

Hans: When he played there he spent most of the time on the bench only. I think he learnt more out of that than if he would have played week in, week out. Mentally it made him much stronger. One particular year, he had a whole year sitting on the bench.

Doris: They always they thought he was good, when he played for Marconi he had special training. It happened in no other club before that.

Hans: And the belief of the coach at that time, that helped him certainly for the Socceroos. The first game he played for Australian in 93, 92 the first game against Canada, Zabika got sent off and he had to come on after 15 minutes or 16 minutes and that more or less was his first breakthrough.

Doris: Then he played the full game in Sydney, the return match. He always had this wish that one day he would play for Australia.