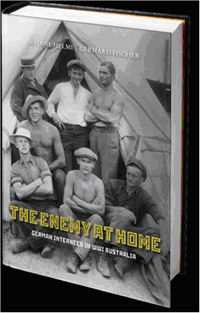 The Enemy at Home: German internees in WWI Australia
Nadine Helmi and Gerhard Fischer
When nearly 7,000 people of German and Austrian descent were detained in Australian during World War I, talented Bavarian photographer Paul Dubotzki was among them. These unlikely prisoners-of-war came from all walks of life and many, like beer baron Edmund Resch and acclaimed orthopaedic surgeon Dr Max Herz, had lived in Australia for decades. In The Enemy at Home Dubotzki's recently rediscovered photographs reveal what life was like inside the Holsworthy, Berrima and Trial Bay internment camps. These striking images provide a rare and surprising snapshot of the theatrical events, small businesses and sports that boosted the inmates' spirits.
April 2011
Flexi Jacket / 288pp
220 x 160mm
130 illustrations,
2-colour throughout
ISBN 9781742232645
Ordering the Enemy at Home book
Order on the Museum of Sydney's secure website
http://shop.hht.net.au/site/Home/Catalogue.aspx?productid=8bad2792289741bc
Prices & Postage
$44.95 RRP
$40.45 RRP HHT Members
Free postage