Crews from German merchant ships captured in Australian ports at the outbreak of war were interned at Torrens Island, Rottnest Island and later moved to Berrima and Holsworthy Camps. The captured vessels included the Altona, Pfalz, Elass, Berlin, Prinz Sigismund, Hobart, Tiberius, Turul and Germania from German shipping companies operating in Australian waters. These companies had a long association with Australia. From the 1880s they had regularly transported freight from Europe to Australia and took Australian primary products to Europe on the return journey. The confiscated ships were renamed by the Commonwealth Government for wartime service.
The most prominent companies were the North German-Lloyd (NGL), the German Steamship Company (HANSA) and the Deutsche-Australische Dampfschiffs Gesellschaft (DADG or German-Australian Line). DADG was formed in 1888 to operate services from Hamburg via Antwerp and the Cape to Adelaide, Melbourne and Sydney. The service commenced in July 1889, but, within a couple of years, passenger services to Australia were discontinued and the company restricted its activities to the cargo trade to Australia and the Dutch East Indies and later to North and South America. It was taken over by the Hamburg-America Line in 1926 and ceased operating as a separate identity.
Civilians who worked for trading and importing companies from German New Guinea, Singapore and other ports in the Pacific as well as the crew from the German light cruiser SMS Emden, sunk off the Cocos Islands by the Australian cruiser HMAS Sydney in 1914 were taken prisoner of war and interned at Trial Bay, Berrima and Holsworthy concentration camps.
The regimented and structured nature of Navy life resulted in the internees from Trial Bay and Berrima being allowed a large amount of freedom and self organisation by the camp authorities. Far from listlessly languishing in a foreign gaol, these men applied themselves to disciplined and productive pursuits, providing a cultural life and maintaining a strong sense of identity.

SS Greifswald in Fremantle Harbour, Western Mail, 14 August 1914, p. 27.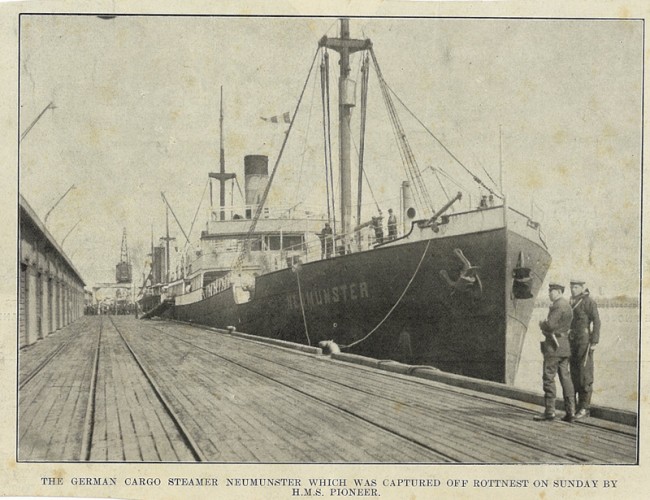 SS Neumünster in Fremantle Harbour, c.1914, Courtesy National Library of Australia
The German merchant vessels SS Greifswald, SS Thüringen and SS Neumünster were captured off Fremantle at the outset of war and their crews interned on Rottnest Island and later at Holsworthy and Berrima concentration camps.