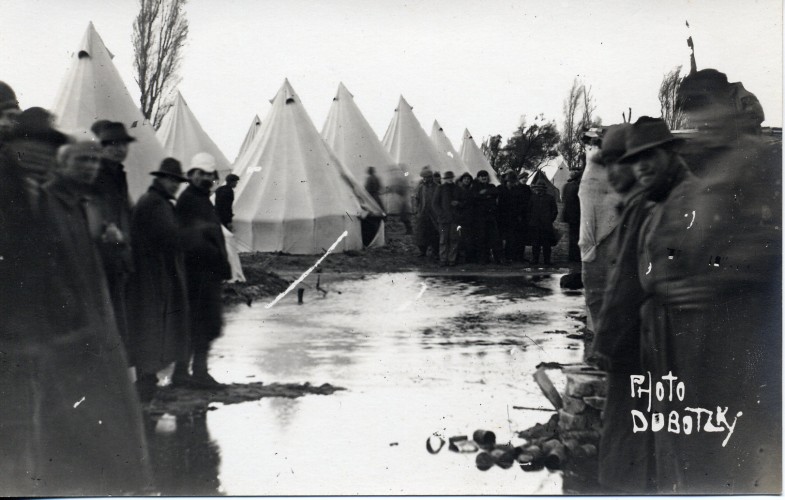 Torrens Island Internment Camp, c.1914 – 1915. Dubotzki collection, Germany
The Torrens Island Internment Camp was a World War I concentration camp located on Torrens Island in the Port River Estuary near Adelaide in South Australia. Up to 400 'enemy aliens' were interned at the Torrens Island Internment Camp which opened on 9 October 1914. Internees were mainly of German or Austro-Hungarian background, including some who were naturalised British citizens. Some internees were crew members of enemy nationality who were taken from ships in Australian ports.
In South Australia, a relatively high percentage of migrants were of German background, and so the 'enemy alien' concept had a significant effect. Not all were held as internees in camps; some were required to report to local police on a regular basis.
Conditions at the camp were very harsh, with the internees being housed in tents and made to cater for their own cooking requirements, including growing their own food. Despite these hardships, the inmates managed to organise cultural events and entertainment, and even published a number of editions of a camp newsletter called Der Kamerad.
In early 1915, the camp was placed under the command of Captain G. E. Hawkes and conditions worsened, with reports of physical abuse and ill-treatment. The third issue of Der Kamerad reported the flogging and whipping of recaptured escapees. Torrens Island Internment Camp '… had by far the worst reputation of all internment camps in the Commonwealth' (Fischer, p. 194).
After the internees made their complaints public, Hawkes was removed from his command and the Department of Defence held two courts of inquiry into the running of the camp. After the findings of a court of enquiry into this treatment of internees was submitted, the Defence Department closed the camp on 16 August 1915. The federal government had also decided to close regional camps that had been set up in the early years of the war. Many prisoners, including South Australian internees, were transferred to the Holsworthy Camp.