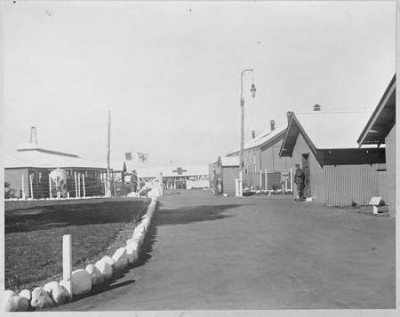 The entrance to the camp at the Venereal Hospital at Langwarrin, Victoria, c.1915 – 1918. Courtesy Australian War Memorial
Langwarrin Internment Camp was situated on the Mornington Peninsula, south-east of Melbourne. It housed up to 500 internees in poor conditions. Most internees lived in tents and the facilities for washing and bathing were inadequate. Some internees built huts at their own expense. Internees worked to improve the camp, building fences, clearing ground and improving the water supply and they were paid for this work.
German, Austrian and Turks living in Victoria were detained at Langwarrin as 'enemy aliens'. In November 1915 there were 769 Germans, 104 Austrians and 72 Turks in the camp. Initially they lived in tents, sleeping on straw mattresses and were given 5 gallons of water each per day as well as food. They were paid between 1 and 3 shillings (10 – 30 cents) a day if they chose to work. In April 1915 the Department of Defence approved the expenditure for the building of huts. The frames were to be built in Melbourne and the Internees were to complete the huts under the supervision of the Camp Commandant.
Langwarrin camp closed in 1915 and most of the internees were transferred to Holsworthy Camp in New South Wales. By December 1917 only 326 detainees remained at Langwarrin and some remained until 1919 to work at the nearby venereal diseases hospital. Langwarrin was used intermittently as a transit camp for internees transferring from other states to Holsworthy Camp.